Elevation Gain – 1525m
Riding Time – 4 – 8 hours
Route Profile – Rolling Terrain with breath-taking views
Road Quality – Mostly smooth tarmac. However there are a few patches of damaged roads
Traffic Level – There will be a lot of traffic in Bangalore. Once we are in the villages, there is almost no traffic except for the occasional movement of heavy transport vehicles
Difficulty Level – Advanced




Strava Route – https://www.strava.com/routes/16139263



Savanadurga, which is considered to be one of the largest monolith hills in Asia, is a must ride toroute. What's in store for you on this route? Well, you will be riding past a couple of lakes, a gigantic Banyan Tree, a dam, and one of the largest monolith hills in Asia. Apart from this, you will be riding on beautiful country roads and through a forest.
The best way to prepare for and complete this ride is to consume enough fluids (electrolytes and water) at regular intervals. Also, do eat some solid food before and during the ride in order to finish strong.
Start off early in the morning from Bums On The Saddle (BOTS), Jayanagar and continue towards Nagarbhavi. Get onto the Gandhi Marg road to reach Bangalore University. Continue on the Kengeri main road to reach Komaghatta Lake. By now, you would have gotten out of the city to ride on some beautiful country roads. Ride towards DoddaAalada Mara (Big Banyan Tree) and continue riding towards Indian Deep Space Network (IDSN). The Manchanabele Dam is not very far from here. There will be some movement of heavy transport vehicles on these roads as there is a cement factory in the locality. Once you evade all the heavy transport vehicles, you will start climbing towards Manchanabele Dam. Be prepared for a treat! Stop by the side of the road, click a few pictures, soak in the view, and then continue towards the next checkpoint. By the way, there is also a trail which will take you closer to the dam. Bikes can be taken there, but there's a lot of broken glass on the trail. Note:You will find very few shops for food and water after DoddaAalada Mara (Big Banyan Tree)
Now, continue towards Savanadurga. The road becomes narrow and traffic is almost negligible. Once you reach the end of the Savanadurga – Manchanabele Road, you will join the Magadi – Ramanagara Road where you will find some shops for refreshments.
Enter the Savanadurga State Forest to reach the base of Savanadurga Hill. Once you reach the base, find a safe spot for your bicycles and climb the hill. But, leave your bike there at your own risk. The hike up and down the hill will take close to 3 hours.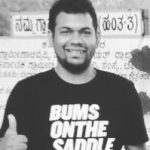 WHAT I LOVE ABOUT CYCLING
I never stopped riding my bike! It all started with me cycling to school. It then became my tool of choice to stay fit, which seeded my passion for long distance cycling. I love the simplicity of cycling as it makes you an integral part of the elements (Rain, Cold, Heat, Climbs, Descends) which in turn makes you value every pedal stroke!
Working as a Bike Specialist allows me to spend my entire day with bicycles and working with other like-minded people.
DISCIPLINE: Road
CURRENT BIKE(S): Scott Aspect 670 & Specialized Allez
DREAM BIKE: S-Works Tarmac
OTHER PASSIONS: Running, Photography, Travelling