Punctures are like a shadow, it cannot be avoided! But having said that, the risk of having a flat can definitely be minimized.
Here are few tips
1.  PUMP UP YOUR TIRES TO OPTIMAL PRESSURE
Incorrect tire pressures are a major reason for punctures. Make it a habit to regularly check your tire pressure before heading out for a ride, especially long rides. Tire pressures are normally mentioned on the side wall of the tire in PSI units and have both an upper and a lower limit. Optimal tire pressure depends on your riding conditions! Lower tire pressure under wet conditions enables higher traction. Just a few PSI reduced from your tires can magically transform your ride. A heavier rider would need higher tire pressure to ensure no pinch flats. Play around with tire pressures to understand How this can impact your ride.
2. BE ALERT ON THE ROAD
Roads are filled with potholes, stones, and various other hazardous substances, riding over which would cause a puncture. All of it can be avoided by being alert while riding on the road. When on a group ride, alert the rider behind about the upcoming hazard by giving them an appropriate signal. Prevent riding towards the absolute left edge of the road. In India especially, sharp stones and metal pieces are swept to the road sides and could cause issues if you ride thru them. In case you see broken glass, slow down and avoid riding thru the broken pieces.
3. GOOD QUALITY TIRES
Good reputed tires are as important as having good quality shoes for running. A lot of tires come with in-built puncture protection. Many high-quality tires also have proprietary compounds which not only make the tire light but also grip well and ensure your ride is safe. Some tires also have inbuilt reflectivity to ensure additional safety while you're riding. Good quality tires also last longer.
4. PERFORM REGULAR CHECKS
Perform a thorough weekly check up on your tires. Ensure there are no cuts or cracks on the tire which would expose the inner tube and lead to punctures. Check for glass or sharp stones embedded in the threads which could slowly pierce the tire and cause a flat over time.
5. OTHER THINGS TO LOOK FOR
Other things that could cause a puncture are – not using a rim tape, faulty installation of tubes/tires, improper handling of the valve while pumping the air and many more things can also be responsible for the cause of flat.
CONCLUSION
Tires are one of the most important components of your bicycle. It's the only part of the bicycle that's constantly in contact with the ground and can either make your ride enjoyable and safe or sluggish and puncture prone. It's interesting that the founder of Specialized Bicycle Components, one of the biggest cycling brands in the world today, started his company by creating a tire as he believed that this was the most important part of the bicycle that would allow him to ride longer and harder.
A well-maintained tire offers longer durability and minimizes the risk of causing flat, by following these few tips one can avoid these frustrating events and enjoy the awesomeness of the cycling.
Shucks. We're sorry this post was not that useful
How can we improve this post for you?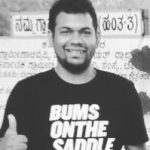 WHAT I LOVE ABOUT CYCLING
I never stopped riding my bike! It all started with me cycling to school. It then became my tool of choice to stay fit, which seeded my passion for long distance cycling. I love the simplicity of cycling as it makes you an integral part of the elements (Rain, Cold, Heat, Climbs, Descends) which in turn makes you value every pedal stroke!
Working as a Bike Specialist allows me to spend my entire day with bicycles and working with other like-minded people.
DISCIPLINE: Road
CURRENT BIKE(S): Scott Aspect 670 & Specialized Allez
DREAM BIKE: S-Works Tarmac
OTHER PASSIONS: Running, Photography, Travelling