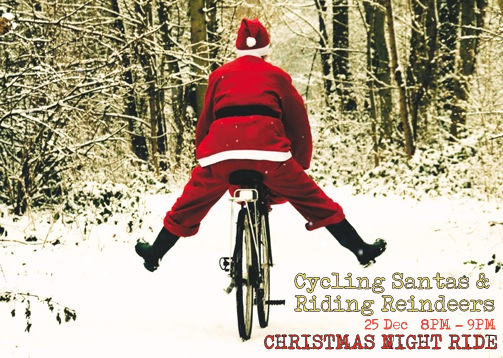 Decorate your bike with Christmas tinsel, bells, lights, reindeer horns and come ride the night away on Wednesday the 25th.
To make the evening more exciting, the funkiest looking X'massy bike and the best dressed X'massy biker will be going home with something Specialized and a BOTS money voucher.
We meet at Bumsonthesaddle Infantry Road at 8PM (map)
Ride Route: START Infantry road – END Java City
Route Via Thoms Bakery, Mosque Road, Indiranagar, Koramangala, ending at Lavelle Road- We hope to grab some plum cake along the way.
We ride safe, so lights and helmet compulsory.
Don't have your ride for the evening, give us a call and let's see if we can help you.
Some rental options – www.bumsonthesaddle.com/marketplace