A bunch of us are doing the Savandurga route the coming Sunday (9 Mar)
Ride Details

Starting time: 6am SHARP

Meetup point: Family Mart (intersection of inner ring road and Kanakpura road)

Distance: around 120Km

Approximate ride time: 6 Hrs (should be back by 1pm)

Ride level: not easy
Route
Plan is to ride up Kanakpura road, take a deviation (offroad), cut across Mysore road, ride past Big Banyan Tree and hit Savandurga. Come back the same route. Hardly any traffic on these roads and the roads are a mix of nice tarred roads and nice off roads :)
Terrain
The rolling terrain will make you utilize all your gears (time to use the granny gear) .
To Bring
Check out the ride checklist for more details.
wanna join us ? just leave a comment or shoot an email to
How helpful was this article?
Click a star to rate.
Average rating / 5. Vote count:
Shucks. We're sorry this post was not that useful
How can we improve this post for you?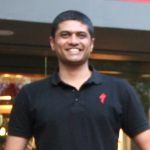 WHAT I LOVE ABOUT CYCLING
I love riding my bike. Whether it's a simple commute, a high-intensity road race, a jaw-grinding brevet, fixie rides thru packed Indian city or a kick-ass technical single track – I love it all. Apart from riding bicycles, I love being all geeky and know everything there is to know about bicycles, technology, bike fit, and service.
I started BUMSONTHESADDLE to share this passion for cycling.
DISCIPLINE: Partial towards MOUNTAIN BIKING but love it all
CURRENT BIKE(S): Specialized Rockhopper, Specialized Tarmac, Pure Cycles Original
DREAM BIKE: S-Works Epic HT & S-Work Roubaix
OTHER PASSIONS: Technology, Photography, Baking, Travel, and Reading