Whether you're headed on a long road ride or commuting in your city – bicycle helmets are an essential accessory while you're out on your bike. This is especially important for kids. Although a common excuse is that we're riding too slow for anything to happen, it's extremely important to understand that wearing a helmet can reduce the risk of head injury to bicyclists by as much as 50 percent.
Choosing the right helmet is essential not only from a safety standpoint but it's critical that it matches the kind of riding you aim to do, delivers high levels of performance and also makes you look uber cool when you're on your bike. Every helmet must provide a balance between safety, fit, comfort, ventilation and coolness.
Here are a few things to consider before choosing your helmet:
HELMET CONSTRUCTION
Now a days, most of the helmets available to us are made of expanded polystyrene foam (EPF) and a tough-but-thin plastic shell outer casing that is either glued to the EPF (for helmets at the lower end of the price spectrum) or moulded into the EPF (for helmets at the higher end of the price spectrum). Both the helmets are safe. Though moulded helmets are lighter and have more vents. On impact, its the EPF that gets crushed and hence ends up protecting your skull. Its important to replace ones helmet after a crash. The helmet might not show any exterior damage, but the interior structure of the EPF would have weakened considerably. Hence rendering the helmet unsafe for use.
KNOW WHICH TYPE SUITS YOU
Bicycle helmets come in different types
– Leisure or Urban Helmets
– Road Helmets
– Mountain Bike Helmet

You have to choose your helmet based on your riding style or the type of bicycle you are riding to makes sure you have the appropriate levels of safety and to also make sure your helmet matches the kind of bike you're riding.
LEISURE, URBAN and COMMUTER HELMETS
These helmets are for casual riding or short urban commutes. Weight and ventilation are not a priority, but protection from city traffic and visibility during the day as well as night are high on the priority list. These helmets are perfect for riders who look at short fitness rides in the morning, look at commuting about their city on their bikes or have a short commute to work.
ROAD HELMETS
Good Road helmets are light weight, have great ventilation and are aerodynamic in nature. these are basically high performance helmets built to not only make you go faster, but also keep your head cool as your go all out on effort on your road bike. Ventillation typically means more vents, yet these helmets are uber safe incase you do fall off your bike. Highly recommended if are looking to race or wanting to take part in any form of performance cycling. These helmets are typically quite expensive and high on technology.
MOUNTAIN BIKE HELMET
Mountain Biking helmets typically have more coverage compared to the other kinds of helmets to meet the changing environment in mountain biking. They end up being a bit bulkier and offer a lot more protection on the sides and rear because you never know how you might fall off your bike while out mountain biking. These helmets typically come with a bigger visor to offer shade whilst out on trails.
THE CORRECT SIZE / HELMET FIT
A good fit is crucial. If the helmet is not properly positioned on the head, it may not protect you at the moment of impact. Straps must be snug and the helmet positioned correctly. Once properly adjusted, only minor adjustments are likely to be necessary the next time you wear it.
Most helmets come in different sizes and its critical to ensure you find the right size. You can use a measuring tape to measure the circumference of your head (1 inch above the eyebrows) and choose the right size according to the manufacturers site. A well fitted helmet will ensure you donot develop a headache, and will also ensure optimal safety incase of an eventual fall from your bike.
Good brands also have their helmets in a special Asia Fit that is ideal for the Indian head form as Asian's typically have a much wider forehead. It's important to wear a helmet that is comfortable.
Remember, the sizing chat may differ for different manufacturers. Don't go by an approximate sizing and make sure you measure the circumference of your head and get the correct size. Most of the helmets in the lower end of the price range come with a universal fit
How can I tell if my bicycle helmet fits properly?
When the chin strap is fixed, the helmet should not move side to side or up and down
there should be a 1 finger space between the chin strap and your chin. You should be able to feel the helmet pull down when you open your mouth if the chin strap is fixed correct
Helmets typically have an adjustable dial which helps make sure the helmet fits snug; A good helmet should fit snug, but not give you a headache
it should sit level on your head and not be tilted back or rest low on the forehead
the helmet should be about 2 finger widths above the eyebrow. A simple test is to make sure you can see the edge of the helmet when looking upwards
SAFETY IN BICYCLE HELMETS
Safety is the biggest thing to look for in a bicycle helmet. A good thumb rule is to go for well known brand and to jump at the best helmet you have budget for. These are bound to be safe, well designed and most important – well tested. Most good helmets come with the European CE- EN1078 certification. The CE EN-1078 specifies requirements and test methods for bicycle helmets, skateboard and roller skate helmets. It covers helmet construction including field of vision, shock absorbing properties, retention system properties including chin strap and fastening devices, as well as marking and information (more details).
Other well known certifications to look for are CPSC & Snell.
Never consider using a old helmet or a helmet that has developed a crack or has been in a crash. These helmets could be unsafe as the foam in the helmet might not protect your head incase of a crash. As a good thumb rule, its important to replace helmets once every 4 – 5 years and immediately incase the helmet was involved in a crash.
OTHER THINGS TO CONSIDER
Other things to consider while choosing a helmet are color, ventilation, weight and padding.
Bright colored helmets ensure you're highly visible on the road which helps in keeping you safe. Inbuilt reflectivity will also ensure motorists and others can see you on the road at night. Some helmets come with inbuilt lights which are great as the flashing lighting is at a much higher level vis-a-vis your tail light and make you much more visible on city roads.
Good ventilation is critical to ensure you can keep your head cool on sunny day. Unlike other sports, your head prespires quite a bit with the effort of riding a bike and helmets need to do a a good job of sweat and heat management. Good helmets do a great job of both without adding too much of weight to the helmet. Road bike helmet vents suck the air from the front and push it out from the rear whereas mountain bike helmet vents are designed to push the hot air out from the top.
Lighter helmet do not add extra weight on your neck, which will ensure pain free riding. This is expecially important on slightly longer rides and critical if you're into long distance cycling or randonneuring.
Good padding will ensure your helmet is uber comfortable and will also help in keeping you sweat free.
CLEANING YOUR HELMET
Sweat and grime are common foes while you're out riding and are in constant contact with your helmet. Sweaty soggy helmet padding is not a pleasant sight. To clean your helmet you can just wipe the top outer layer with a damp cloth and wash the padding's with cool or warm water. Washing the helmet with soap and scrubbing it might reduce the effectiveness and be a safety concern. You also get helmet deorderisers and cleaners if you want to be really thorugh. Replaceable helmet padding is also a great way to refresh your helmet.
Remember investing on a good quality helmet is like getting life insurance – it will pay off when needed.
How helpful was this article?
Click a star to rate.
Average rating 5 / 5. Vote count: 1
Shucks. We're sorry this post was not that useful
How can we improve this post for you?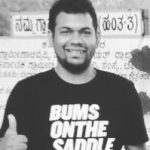 WHAT I LOVE ABOUT CYCLING
I never stopped riding my bike! It all started with me cycling to school. It then became my tool of choice to stay fit, which seeded my passion for long distance cycling. I love the simplicity of cycling as it makes you an integral part of the elements (Rain, Cold, Heat, Climbs, Descends) which in turn makes you value every pedal stroke!
Working as a Bike Specialist allows me to spend my entire day with bicycles and working with other like-minded people.
DISCIPLINE: Road
CURRENT BIKE(S): Scott Aspect 670 & Specialized Allez
DREAM BIKE: S-Works Tarmac
OTHER PASSIONS: Running, Photography, Travelling