choosing a right helmet is very essential for cyclist's safety. Be it an occasional rider or a rider at performance level. A good helmet must provide a balance between fit, comfort, and ventilation. Here are few things to look for before choosing the helmet.
KNOW WHICH TYPE SUITS YOU
Bicycle helmets come in different types like leisure ride helmet, road ride helmet, and mountain bike helmet, one has to choose the helmet which is well suited to his or her riding style or the type of bicycle they are riding.
Leisure ride helmet: These helmets are for casual riding, these helmets are for the people who are not majorly concerned about the weight and the ventilation.
Road ride helmet: These helmets are used for road riding. good road bike helmets are light weight and have good ventilation.
Mountain bike helmet: These helmets have more coverage compared to the other helmets to meet the changing environment in mountain biking.
GET RIGHT SIZE HELMET
Most of the helmets come in different sizes like small, medium and large. You need to check which size fit's you best. You can use a measuring tape to measure the circumference of the head (1 inch above the eyebrows) and choose the right size accordingly.
Helmet sizing chart
Small – 51-55cm, Medium – 55-59cm, Large – 59-63cm
CHOOSE HELMET WHICH HAS GOOD FIT COMPONENTS
Helmets should fit well on the head it should not be sliding Down or tilting sideward's. Helmets now come with adjustable dial in the back which helps in proper fitting of the helmet; A good helmet should have a snug fit, not be tight enough to make the rider uncomfortable.

GO FOR WELL KNOWN BRANDS
Well known brands test their products extensively and meet all the safety standards most of the helmets comes with European CE- EN1078 certification. These helmets have better construction and lining inside, which helps in better performance of the helmet.
OTHER THINGS TO CONSIDER
other things like color, ventilation, weight and padding's matter a lot.
Helmets with bright colors make you visible on the road which helps in keeping you safe.
Helmets with good ventilation help in keeping the riders head cool. On road bike helmets vents are structured in such a way that air enters from the front and exits from the rear and on mountain bikes the vents are designed in such a way that they push the hot air out from the top.
A lighter helmet does not add extra weight on your neck.
Helmets with good padding make the rider more comfortable and also help in keeping the rider sweat free.
Helmets will support well if these above-mentioned points are taken care off, low-cost helmets do not pose all these features to compensate for the pricing. So when in the market for a new helmet keeps these above points in mind to make the best choice.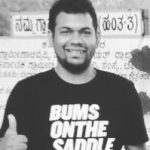 WHAT I LOVE ABOUT CYCLING
I never stopped riding my bike! It all started with me cycling to school. It then became my tool of choice to stay fit, which seeded my passion for long distance cycling. I love the simplicity of cycling as it makes you an integral part of the elements (Rain, Cold, Heat, Climbs, Descends) which in turn makes you value every pedal stroke!
Working as a Bike Specialist allows me to spend my entire day with bicycles and working with other like-minded people.
DISCIPLINE: Road
CURRENT BIKE(S): Scott Aspect 670 & Specialized Allez
DREAM BIKE: S-Works Tarmac
OTHER PASSIONS: Running, Photography, Travelling