BumsOnTheSaddle would like to invite you to spend an evening with The Indian National Time Trial Champion — Naveen John — from the Specialized Kynkyny Cycling Team.
This is a fantastic opportunity to meet the fastest cyclist in India and to also learn about his journey from being a 100 kilos to taking the podium at the recently concluded Indian Nationals
Find out the secrets of his training, the sacrifices and drool over his race rig. Also, find out how a small Bangalore team — the Specialized KYNKYNY Cycling Team — is now one of the strongest in the country and their plans for the future.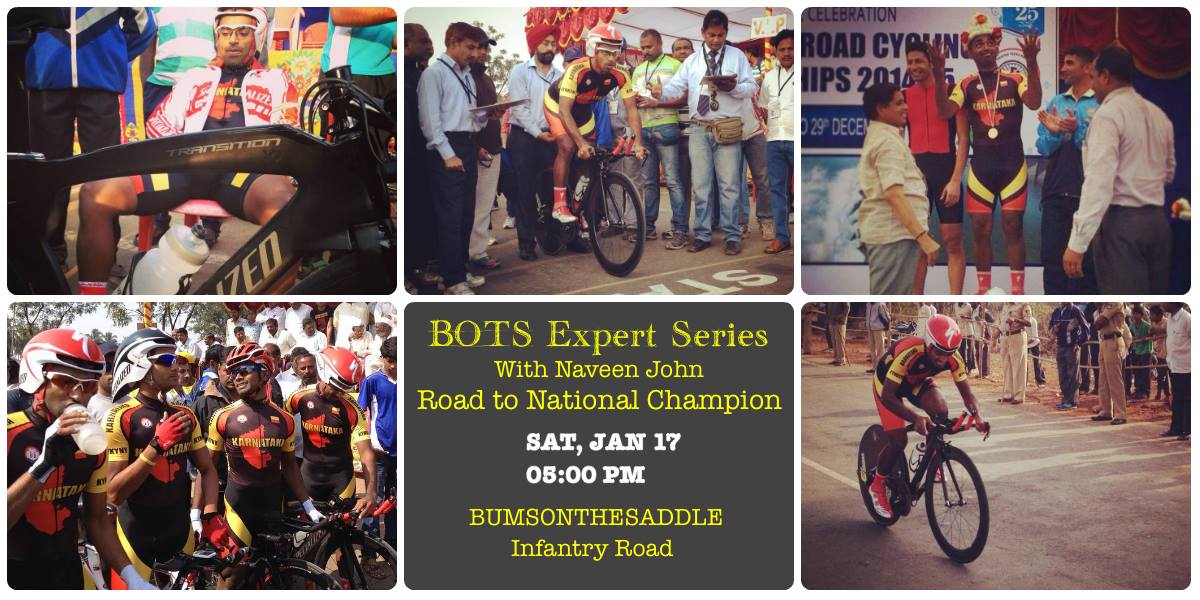 The BOTS EXPERT SERIES are sessions where we bring together experts in the cycling field & bikers in an unique inspiring environment – our awesome bike shops.

A platform to inspire even more cycling!
The first edition was an evening with Chef Biju, talking about Nutrition and Hydration for Cyclists
Event details – http://bit.ly/expert-series-chef-biju
Pictures – http://bit.ly/expert-series-chef-biju-photos
Chef Biju is the co-author of the best selling 'The Feed Zone Cookbook' and 'Feed Zone Portables'. He is the co-founder of SKRATCH LABS — the Pro-Tour's most sought after all natural hydration mix. He has fed the best cyclists in the world from Lance Armstrong, Mark Cavendish and Thor Hushovd, to the next generation superstars like Taylor Phinney and Peter Sagan. And most importantly, he is a Kerala boy!
The next in the BOTS Expert Series was an evening with Michael Lehnig in Pune speaking about Training & Nutrition regime for cyclist
Event details – http://bit.ly/expert-series-michael-event-details
Pictures – http://bit.ly/expert-series-michael