From a casual rider to someone who is pushing the limits of body/mind/machine – a bike fit ensures a comfortable, efficient, injury free ride.
Although a good rehabilitative sport cycling can be injurious because of its repetitive nature – and because of bad equipment and ignorance!
We intend to fix the ignorance bit for starters.
Vijay, a professional bike fit expert from Specialized is currently in India to fit the Specialized KYNKYNY Cycling team on their beautiful new machines (drool!)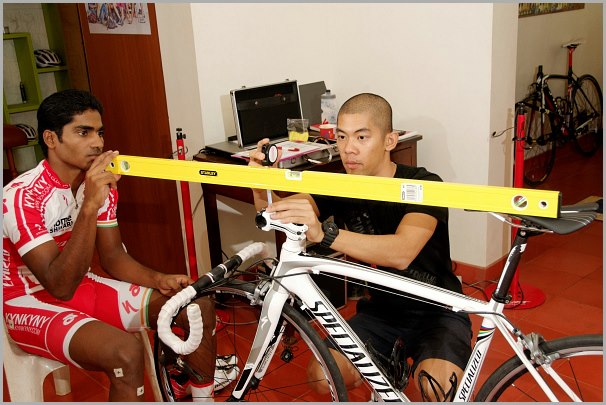 Vijay Varadarajulu (in black) at work
And you have him for an hour at BumsOnTheSaddle for an informal chat about bike fit – what he does as a bike fit professional, about bike fit and maybe even about his experience fitting the Specialized India team.
WHAT – A 1 hour session on/about Bike fit by Vijay at BumsOnTheSaddle
WHEN – 10 March (coming Sunday morning)
WHERE – BUMSONTHESADDLE
FEE – a pint of beer for Vijay ;)
We dont have place for a lot of people. If you are interested in attending please do sign up immediately.
Some Good stuff

Specialized KYNYNY Cycling Team talking about their fit experience