A bike can be ridden with any shoe but one who rides regularly is benefitted by shoes designed for cycling.
Cycling shoes are designed to be light, with a stiff sole to generate more power in each pedal stroke.  This results in high efficiency and speed,
Cycling shoes use Clip-less technology, where a small metal or plastic is attached to the sole of the shoe which contains two, three or four bolts. This helps you to transfer power more efficiently and also keeps your foot in optimum position.
Different shoes are available for different type of riding
ROAD CYCLING SHOES
Road shoes have nylon or carbon sole and good ventilation. They have high stiff soles which generate maximum power through the pedal to help you move forward.
They are not designed for walking due to the large external cleats that protrude out.
As you go higher up the ladder in road shoes the price increase so as the comfort level also. High-end shoes use materials like carbon fiber which decreases the weight and many pro cyclists prefer carbon shoes.
Things to look while buying a Road shoe:
          Pedal compatibility
Use a 3- bolt system (SPD-SL, Look, Time) or 2 – bolt system (SPD).
Many cyclists prefer 3 bolt system since they are more stable on the pedal which increases power transfer and performance.
         Straps or BOA Dial
Straps are reliable, strong and lightweight.
BOA dial is the lightest and lets you adjust your shoe on the go.
          Ventilation
Level of ventilation depends on the climate you are riding in.
Winter shoes have minimal holes that let in minimal water and provide a high level of insulation against the cold. Summer shoes have high maximum holes that allow breathability and comfort.
           Road shoe color cleats meaning
Look and Shimano has 3 bolt systems which indicate the amount of float.
Float refers the amount of rotation that is given to the rider once the cleat is clipped onto the pedal. A few degree of a float is necessary to ensure that you are not fixed with your feet misaligned, if not it could lead to knee injuries.
          Shimano SPD-SL Pedal Cleats
Red 0° Float
Blue 2° Float (provided with high-end e.g. Dura-Ace SPD-SL pedals)
Yellow 6° Float (provided with most Shimano SPD-SL pedals)
Look Pedal Cleats
Float
Grey 4.5° Float
Red 9° Float
MOUNTAIN BIKING SHOES
Mountain shoes have lugs and grips on the sole, which helps you walk and also run when needed. The cleats in mountain shoes are fixed into the soles which make it easier for walking.
Mountain shoes are made tougher, water resistant to help keep out of muc.
Things to look while buying a mountain shoe:

Sole flexibility
Mountain shoes have more flex on the sole, which is a compromise between maximum power transfer during the rides and also to walk off the bike which is necessary during off-roading.
As the price increases, mountain shoes also come with carbon fiber soles which make the shoe lightweight and more transfer.
       
        Pedal compatibility
Use a 2- bolt system (Shimano SPD), which is designed to help clear of muc.
How helpful was this article?
Click a star to rate.
Average rating / 5. Vote count:
Shucks. We're sorry this post was not that useful
How can we improve this post for you?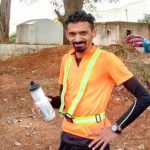 WHAT I LOVE ABOUT CYCLING
While I am a recent cycling convert, I am a die-hard one for life! I love the Specialized brand and have a beautiful Specialized tattoo on my left leg. I've completed some of the toughest and most scenic off-road trails in the country – Manali Leh and Spiti Valley – on my Specialized Rockhopper and also completed the Super Randonneur series as soon as I got my Specialized Tarmac. My focus is road riding and to ultimately qualify for the Race Across America.
I am a Bike Specialist at BUMSONTHESADDLE – ensuring riders have access to correct product, assisting them with fit and sizing and leading road rides and spreading my passion for Road Biking.
DISCIPLINE: Road Biking
CURRENT BIKE(S): Specialized Tarmac and Specialized Rockhopper
DREAM BIKE: S-WORKS Tarmac
OTHER PASSIONS: Football – fan of Manchester United, Bike Packing and Travelling and exploring new places with my girlfriend