Choosing the correct pair of gloves is critical to enjoying a comfortable ride. They help in absorbing sweat and in eliminating road vibration. When chosen right they will fit you right, provide great comfort and look aesthetically appealing. Read through to understand the parameters we consider while choosing the right pair of gloves.
DESIGN
Gloves are generally categorized into two types Full finger and Half finger. Full finger gloves prevent thorns from cutting through your forefingers, hence are a great choice if you riding single track trail. On the other hand, If you are riding on the road / in humid conditions, half finger gloves are always recommended because of their breathability and they allow you to feel your brake lever. We recommend full finger if you are a mountain biker whereas half finger gloves are recommended if you riding inside city limits and if you an aspiring road biker
MATERIAL
Choose a pair that feels comfortable i.e. sufficient mobility in your palm, not feel heavy and which gives a snug fit. Majority of the gloves are made up of synthetic leather on the palms and spandex on the top. It is important for the material to be breathable and flexible allowing for sweat absorption and easy mobility, respectively. If you are riding in the rainy conditions you should opt for waterproof gloves.
PADDING
Padding is another important thing to consider. It helps in absorbing road vibration which enhances your ride comfort on long rides. Generally, padding is of two types: foam and gel. Foam allows better connect to the bike's handlebar because of minimal padding. Gel, on the other hand, is heavily padded, providing greater protection from intense surface vibration. Choose a form glove if you riding on road & gel gloves if you are riding the trails.
SIZE
Choosing the right size is key to comfort. The glove will only do its job when it fits well. Follow the below 4 steps to get your size right:
Measure the circumference of your palm, making sure you measure the widest part of your palm (below your knuckles). Note to exclude your thumb in this step
Take the measurement from the tip of the middle finger to the end of the palm
Use the largest of the above two measurements' to narrow down to the correct size
Finally, use the chosen measurement to compare it with the sizing chart of the brand
There you go. Owning a pair of cycling gloves are essential. We are confident that by following the above tips you will walk halfway onto getting the right pair of gloves. Wish you happy cycling!
Shucks. We're sorry this post was not that useful
How can we improve this post for you?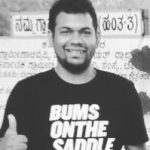 WHAT I LOVE ABOUT CYCLING
I never stopped riding my bike! It all started with me cycling to school. It then became my tool of choice to stay fit, which seeded my passion for long distance cycling. I love the simplicity of cycling as it makes you an integral part of the elements (Rain, Cold, Heat, Climbs, Descends) which in turn makes you value every pedal stroke!
Working as a Bike Specialist allows me to spend my entire day with bicycles and working with other like-minded people.
DISCIPLINE: Road
CURRENT BIKE(S): Scott Aspect 670 & Specialized Allez
DREAM BIKE: S-Works Tarmac
OTHER PASSIONS: Running, Photography, Travelling