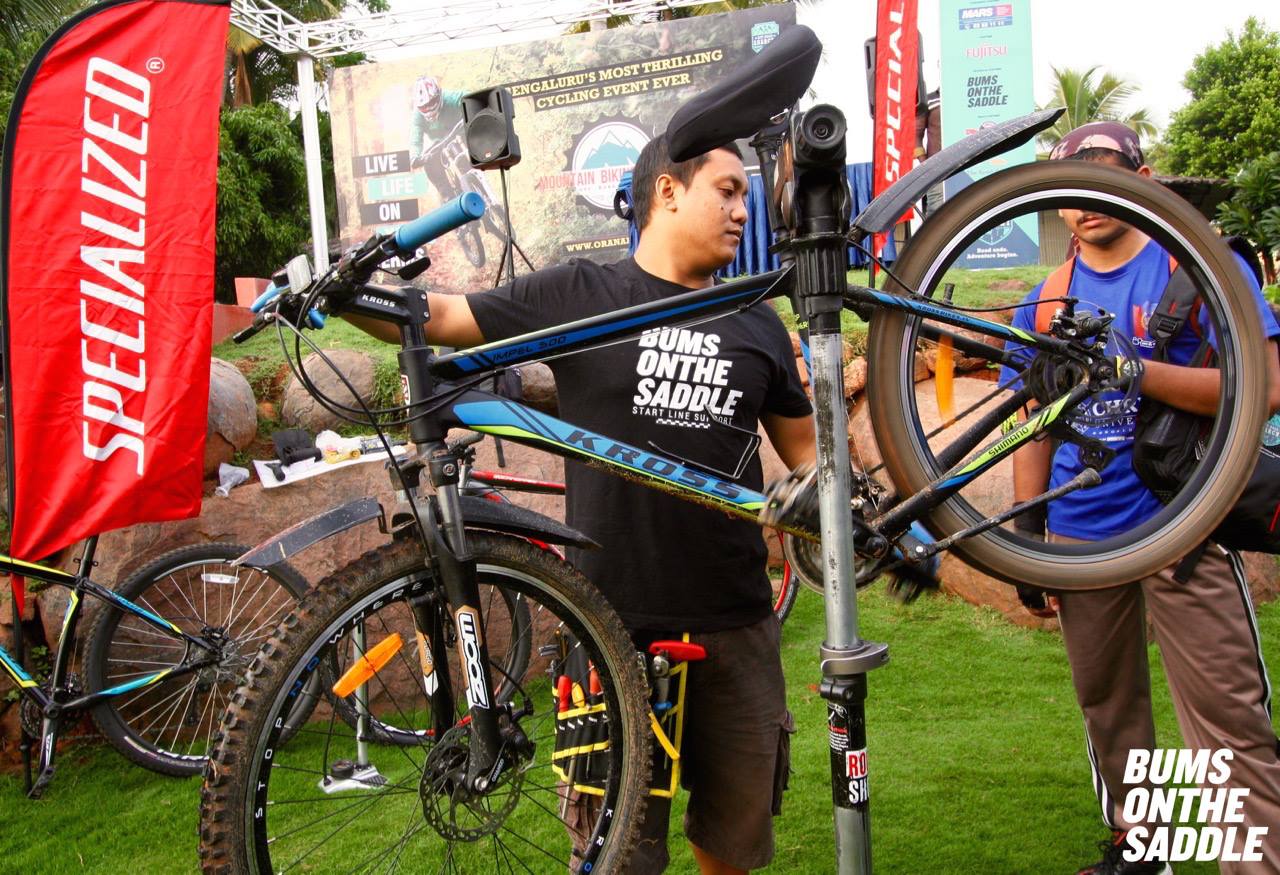 With over a year of experience in providing Start Line Support at races & brevets, we at BOTS Tech have complied a list of top bicycle maintenance tips to ready your bicycle for the day of the event. Below are our recommendations in the order of M-check:
Quick release & hubs: Make sure your hub has bearing that are in working condition. Old bearings & stale grease can create a lot friction causing you to loose speed and having to put out more effort to go up the climb. Quick release (QR) will need to be able to lock when put in place. If your QR is not able to lock, it is best you get a new pair to avoid mis-haps during the race
Wheels: The wheel has spokes, nipple & rim put together. AVOID racing on a bicycle with dented / wobbly rim, loose / broken / rusted spoke & nipple
Tires: This is the one thing (actually 2 things) that allows you to accelerate, corner, brake during the entire duration of the race. Make sure the tire has sufficient button / knob on it to be able to do all of that. AVOID have bald tires during race day — it will even lead to punctures
Suspension fork & rear shock: A properly working fork allows the wheel to stay in contact with the ground below. AVOID having suspension that is jammed / rusted / broken internal parts. If your bike comes with a fork with air, then make sure to top up to correct PSI. AVOID having too little / too much of air
Head set: A perfectly fitted headset will hold everything in place and allow you to steer the bicycle in the correct direction. AVOID racing your bicycle with lose headset, as this may lead to accidents during the race
Brakes: The braking system (mechanical / hydraulic) is composed of: Levers, housing, cable, calipers, brake pads. AVOID having jammed levers, bent / rusted housing & cable, jammed / rusted calipers & lastly worn out brake pads — failure in either of this will lead to insufficient braking when you want to
Drivetrain: The drive train is composed of: shifters, crank, bottom bracket (BB), chain, cassette, rear derailleur (you love this part of the bike — don't you??), hanger & front derailleur. AVOID having jammed shifters, worn out crank tooth / wobbly crank, rusted BB, twisted links / rusted / stretched chain, slipping cassette teeth / rusted cassette, twisted rear & front derailleur, bent hanger. Any of these problems will lead to poor shifting when you want to either accelerate / climb
Saddle: AVOID having a bent saddle to keep up pain the lower back
If you see that your bicycle has any of these issues, then it is best to take it to your local bike shop to get it serviced. Remember! You want to enjoy you day the race venue and not curse your bicycle for the mishap.
Our tech services are available at Jayanagar & Infantry road stores to prepare your bicycle for the event you have been waiting to ride. Contact us on support@bumsonthesaddle.com or call on 080 – 4150 5583 / 4114 3064 to book an appointment.
Are you running a event and would like us to provide Start Line Support? Get in touch with us on the above email / phone #.
Shucks. We're sorry this post was not that useful
How can we improve this post for you?

WHAT I LOVE ABOUT CYCLING
Having started cycling quite late in life, I love riding whatever I get my hands-on! I love the sense of accomplishment I get every time I ride my bike and the fact that I feel younger with more saddle time. I enjoy riding my road bike hard on gravel and am looking forward to someday riding The Paris-Roubaix challenge.
DISCIPLINE: Mountain Biking & Gravel Road
CURRENT BIKE(S): Specialized Allez Comp & Specialized Rockhopper Pro
DREAM BIKE: S-Works Stumpjumper FSR & CruX Expert X1
OTHER PASSIONS: Dogs, Cooking, Photography & Travel