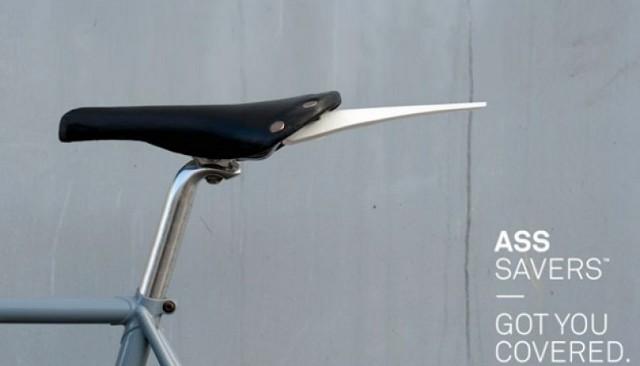 For those of you who have been commuting on their bikes regularly, riding in the rain can be a really fun and fulfilling experience. But one thing that  tends to be a bit of a bummer (pardon the pun) is having a wet backside at the end of it all. I mean, imagine heading out to meet your friends for a casual get-together and you end up at the venue with a trail of dirt on your bum. Not only is that embarrassing, but also feels totally uncomfortable.
Fenders! The trusted, traditional solution comes to our mind. But lets be honest about it, not everyone like the look of those mudguards on our swanky looking bikes. Plus, they do not serve much of a utility on non-rainy days. For someone like me who is a tad too particular about the aesthetics of their ride, fenders were never a viable option. That's when I decided to get my hand on one of the Ass Savers. To think of it, the quirky name had a part of myself sold on the product already. And the unique design of it had me wanting to test it out in these pre-monsoon Bangalore showers.
The good
Say bye bye to wet bums! These ass-savers do just what they claim; prevent your bum (and your back) from getting a trail of dirt on it.
Easy to install and remove. The instructions printed on each one of these are clear and you can get them mounted on your bikes within thirty seconds.
Do not damage the aesthetics of the bike like how a fender does. (but again, that's a very personal thing)
Sits well under the saddle. Does not flap and neither does it get loose upon hitting a rough patch on the road.
Light in weight. Almost negligible in weight actually (for all you weight conscious roadies out there)
What the Ass Saver is not
It does not protect the back of your thighs or the lower half of your legs. But then, it's an ass saver, not a fender. :)
As I mentioned above, it does not offer complete coverage to the rider, so if someone is dressed to go to work, then you might want to consider a change pair of clothes once you reach your workplace.
How to choose the appropriate Ass-Saver for your bike
Mountain bikes – Wide Ass Saver
Road bikes (23c to 28c tires) – Extended Ass Saver
Hybrids and commuters  – Original Ass Savers
Trivia
Road cyclists, the pro-peloton (Lotto-Belisol, Belkin), continental teams, and development teams have all adopted and used Ass Savers in recent years for training and racing.
To view our collection of Ass savers on our website, click here
Shucks. We're sorry this post was not that useful
How can we improve this post for you?