The Vodafone Cycling Marathon is back with a bang and scheduled for Sunday, March 1st 2015 in Bengaluru.
The first edition of Vodafone Cycling Marathon brought in nearly 5000 cycling enthusiasts from across India to the heart of Bengaluru. More cyclists, a longer and safer route and a fun-filled carnival awaits you in this edition of the event.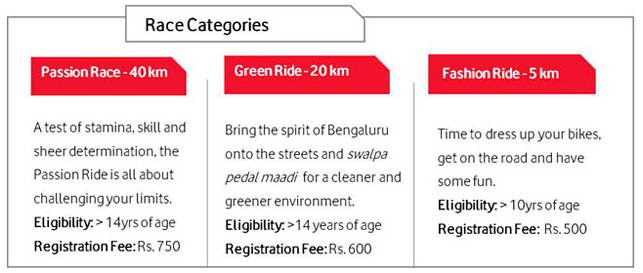 Race Categories at the Vodafone Cycling Marathon
For further information
Visit their website – http://microsite.vodafone.in/cycling
Link to register – http://microsite.vodafone.in/cycling/vodafone-registration.aspx
How helpful was this article?
Click a star to rate.
Average rating / 5. Vote count:
Shucks. We're sorry this post was not that useful
How can we improve this post for you?