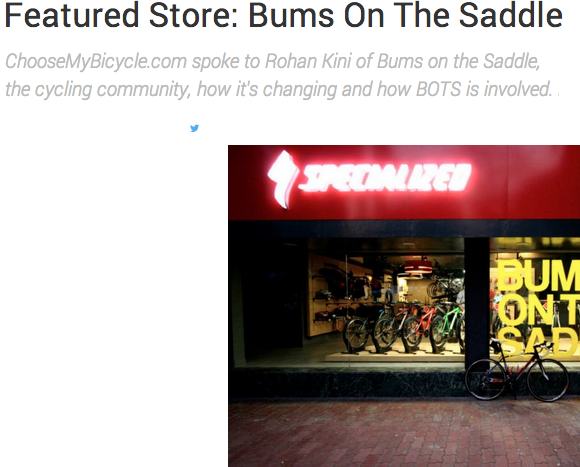 BUMSONTHESADDLE was recently featured on ChooseMyBicycle (link). Sweet read!
An excerpt from the post
When did the store start and what led you to start it?
BUMSONTHESADDLE was started in 2006 by Nikhil and ​I. We rode our bikes quite a bit and always felt that there was ​more to this ​passionate and community oriented product (cycles). We felt most people were just selling a product whereas ​we were more concerned about how these beautiful machines can change someones life for the better! There was an opportunity here to bring the experience to the riding community. ​The intention was not only to ​run a profitable business, but to simply share our passion for cycling and do it creatively and in the "right" manner. This was at a time when there was no facebook, no premium bike shops, no cycling communities/infrastructure, nothing! It was a part time venture where we met up with bikers on the rooftop every saturday, ​set up and adjusted their bikes, took​them riding, helped them with bike tech and know​ ​how and also ran programs to promote cycling to work. We walked the ​walk and that has rolled into what we have going now!

In short, we wanted to re-brand the concept of cycling and I must say we did a great job of it. Its great to hear from the fraternity about how BUMSONTHESADDLE had a massive impact on cycling across the country and has contributed substantially to what you see happening today – retail, community development, forums, racing, riding etc. ​

It feels so awesome​to be a part of history!
---