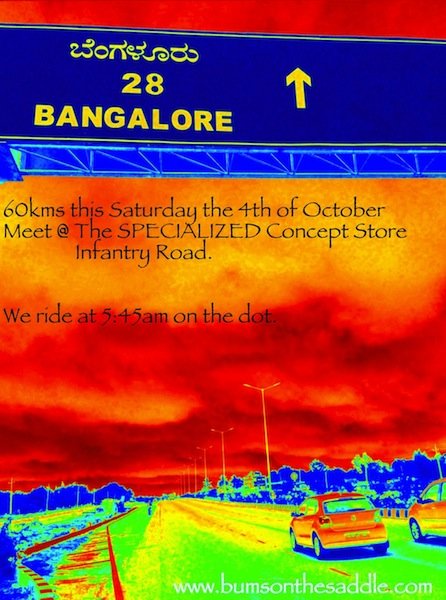 Its been a few weeks since my previous long ride (which one?) and this Saturday ride (link) would be perfect with everyone out of Bangalore holidaying over the long weekend!
The prev ride proved that being prepared pays off when clocking in longer distances. Indicators were my sore bum, aching palms and cramped quads that did a good mexican wave on the last 100km ride!
To save you the post ride agony here's a quick checklist of essentials to ensure you're a happy-chappy post the Saturdays 60km.
WATER for hydration – A couple of bottles on your frame. Use a secure bottle cage, these are designed to hold your bottle tight but designed for easily removal too. A good single hand squeeze bottle ensures you're hydrated without having to stop frequently. Stopping often kills your pace! Word of caution – Aquafina screw tops…errr, not so rider friendly. I ride with two bottles, one electrolyte and the other simple ol' H2O.
FUEL Quick bites stuffed into your cycling jersey(note).
A banana /energy bars/chikki/DIY fuel balls
Golden Rule "Drink before your thirsty and eat before your hungry!"
COMFORT Fingerless gloves + apparel surely take you a long way. Cycling specific shorts were life savers!! Using women's specific cycling shorts with well fitted chamois protects important bits. Man or Woman, good cycling shorts top the list of important things to own!
ENTERTAINMENT Phone – Some foot tapping beats(feet on the pedals pls!) to keep you company. I use Strava, a fantastic app! This tracks my ride and lets me be apart of the community of riders. Sign up with the BumsOnTheSaddle riding community on Strava (link)!
(Editors comment: We don't encourage listening to music when you are riding!)
CONVENIENCE A saddle bag a. k. a my BOTS wedgie – Bits and bobs you will need to support you and your bike. A multitool/puncture kit/tyre leaver/money/phone (Not confident with fixing a flat? Lets hope a good Samaritan rides by!)
COMMON SENSE Cash and some ID – dough to buy more bananas/coconut water and that wholesome breakfast post ride. I always carry some ID – worst case scenario, JUST SAYING.
Quick checks to ensure your bike is in good condition
Pump up your tires to the right tube PSI (squint and you'll find this on the tyre)
Lube – your chain loves some too!
Check shifting – faulty gears are a bit annoying.
Saddle height – to power your ride to perfection!
Bike lust -Polish and shine – I love to ride a sparkly bike!
Eat some good carbs the night before and see you'll Saturday morning!