Meeting good people is one of joys of working at bike shops. From experience, everyone who has walked into BOTS over the last 7 years has only been awesome!
RIDE 2 LIGHT INITIATIVE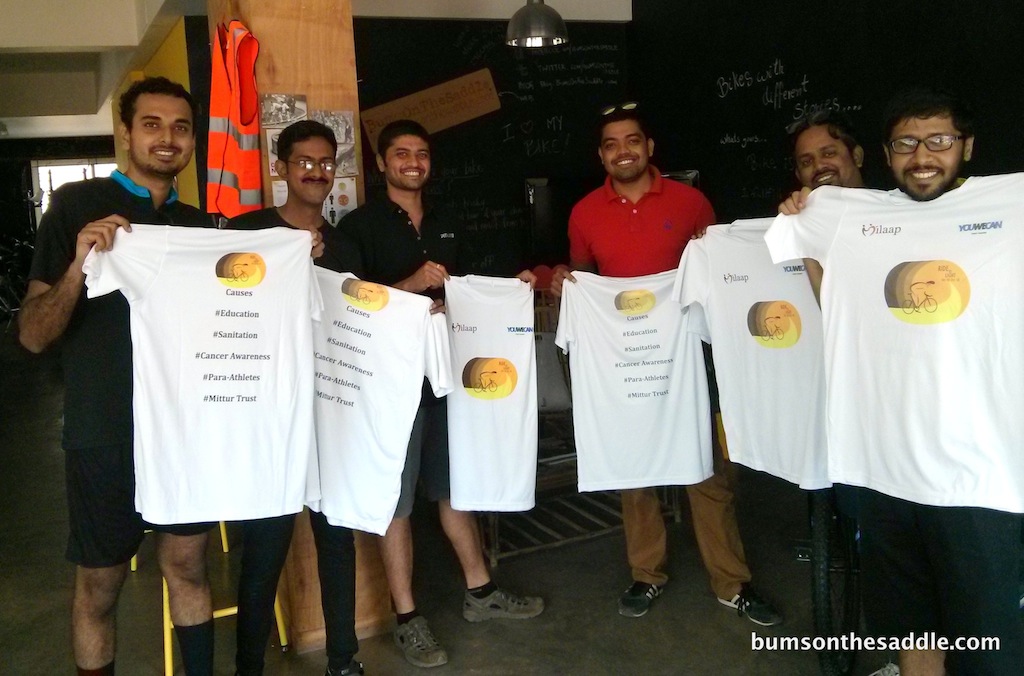 launching their ride t-shirts at BumsOnTheSaddle – we are honored!
It was definitely good to meet this crew of 10 enthusiastic bikers who are all set to kick off their Bangalore-to-Delhi bike ride to raise awareness on multiple topics close to their hearts!
They start on 2 Oct from Freedom Park Bangalore (Facebook event) and will be riding 2400 kms over 18 riding days. Goa, Mumbai and Udaipur will be important stops en-route.
The teams intends to raise money for charity by asking supporters to donate for every kilometer they ride.
Website: http://www.ride2lightindia.org
Facebook: https://www.facebook.com/ride2light
HOW CAN PEOPLE HELP
1. Support during the ride – accommodation during the ride, support vehicles for a day, emergency help along the way if required
2. Help in raising money – these guys have a cause and they are trying to raise some money to support the cause.
3. Spread the message
4. Ride with them if they are close to your city! They would be more than happy if riders could join them for a small 10 km ride to a much long full day 100+km ride!
All details will be updated daily on the website!
We wish the crew the very best from BumsOnTheSaddle