It's the holiday season and that means gift galore! Oh yeah – giving and getting.
As bikers, we came up with a list of items that each one of us personally like. Maybe a great gift idea for a biker friend, maybe a great 'self-gift' or maybe just nice to see what some folks at BOTS think about their products :)
Putting this together was great fun! Definitely a regular on our blog if readers find it useful :)
ps: all items are available via our e-commerce site and we would be happy to deliver them to your doorsteps.
---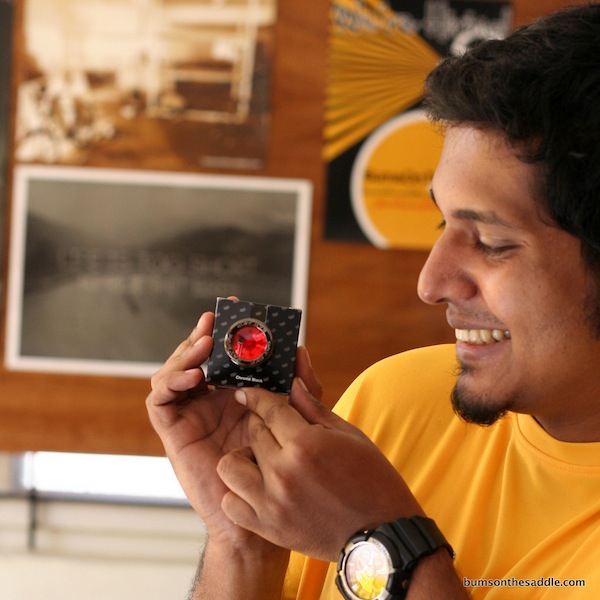 Aditya with his teeny CATEYE NEMA
Why I like it? 
Mounts in seconds on the handlebar or seat post
Super simple to operate
Itsy bitsy sizing – does not cover my bike!
Looks damn cool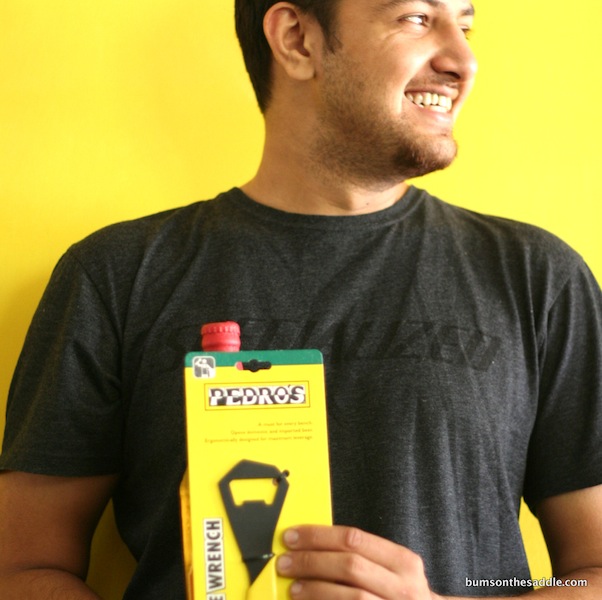 Karan with his *burrp* PEDRO'S BOTTLE WRENCH
Precision laser-cut, heat-treated tool steel construction. Ergonomically designed for maximum leverage and comfort. Compatible with domestic and imported beers!
Why I like it?
Personally tested on all brands of beer
Fantastic BOTS Yellow
Which mech would not want a Pedros Bottle opener?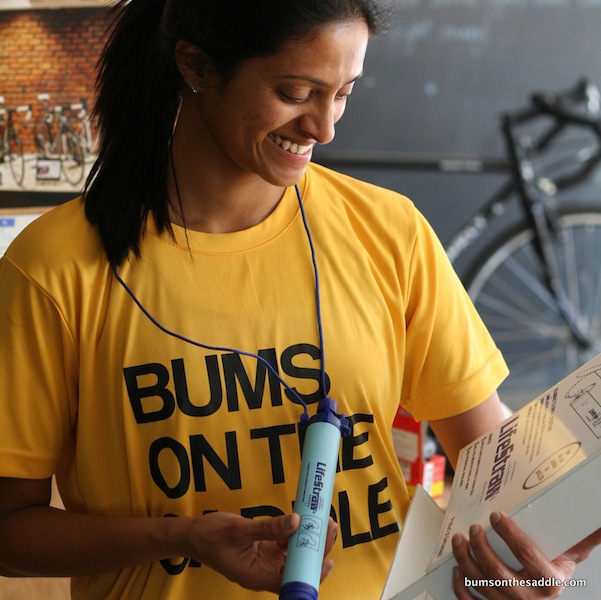 Payal and the lifesaving LifeStraw
1000 liters of clean water in your pocket!
LifeStraw is an award-winning personal water filter, designed to provide safe, clean drinking water in any situation. The lightweight filter is ideal for hiking and camping, travel, emergency preparedness and survival. It makes contaminated or suspect water safe to drink
Why I like it?
Super Light
Guaranteed clean water!
No batteries or moving parts. Can rough it in my backpack as I go trekking and on longer cycling trips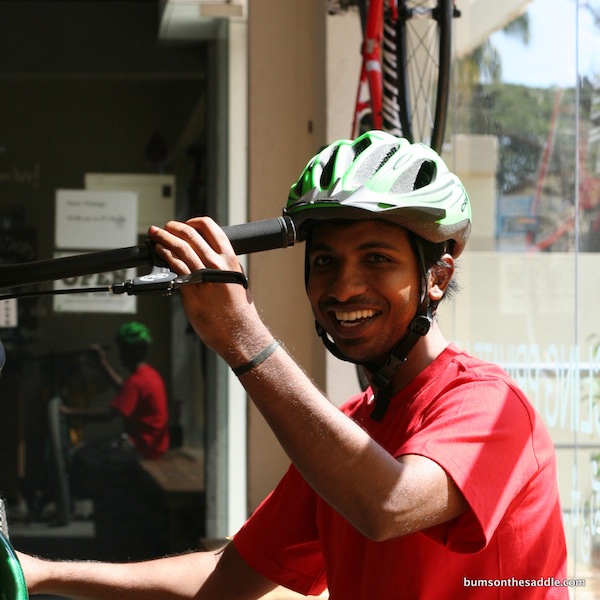 Prem with the Cratoni C-Base helmet (and the Surly Krumpus which which can be viewed in full detail in the reflection behind)
Why I like it?
Lightweight – great for commute and off road riding
Reflectors to ensure I am safe on the road
Bug mesh to gather annoying bugs on my ride
14 air vents to keep my brains super cool for all that heavy thinking on my commute ;)
Cool helmet bag to carry around my other stuff!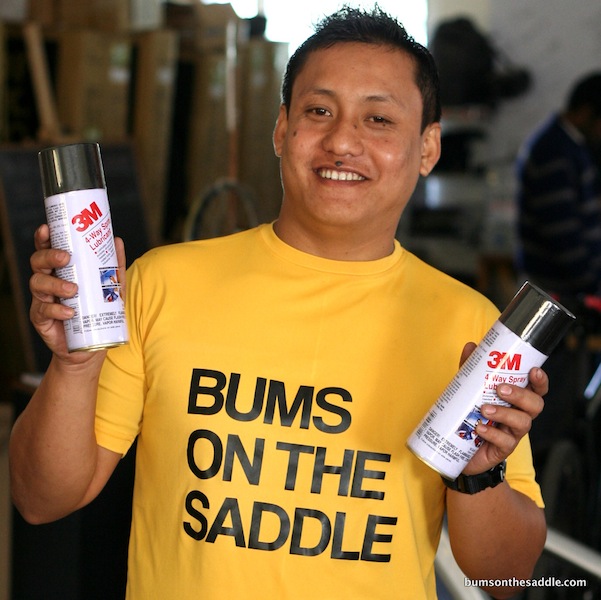 Guna with the 3M Degreaser/Lubricant canisters! 
Why I like it?
Aerosol – easy to use
Efficiently on dirt and old grease
Perfect to loosen up the grease before a bike wash
Great price
Shamala Ninja in a Respra anti-pollution mask
Why I like it?
Brain dead easy to install on face
Does not look intimidating to my other vehicular commuters
Easy to wash, maintain and store
Cotton feels comfortable on the face
CHEAP!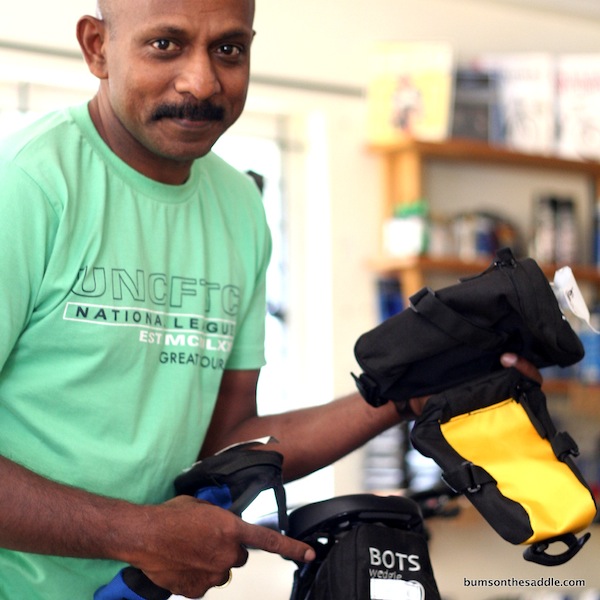 Stanley juggling the oh-so-awesome BOTS Wedgies
Why I like it?
It holds all my essentials – toolkits, patches, spare tube, money
Sufficiently water resistant for Bangalore rains
Makes me an exclusive part of the BOTS wedgie gang
Awesome colors!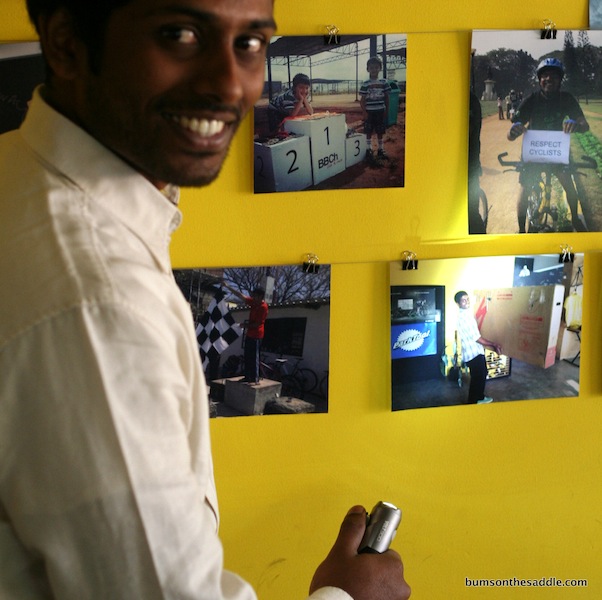 Suraj with his Volt 300 (notice how he has light up an important image! The arrival of Specialized in India :)
Why I like it?
Sleek and good looks
Easy to mount
Sturdy
Powerful Beam
Rechargeable!! Oh yeah!!
Shucks. We're sorry this post was not that useful
How can we improve this post for you?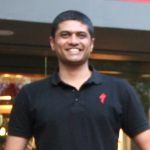 WHAT I LOVE ABOUT CYCLING
I love riding my bike. Whether it's a simple commute, a high-intensity road race, a jaw-grinding brevet, fixie rides thru packed Indian city or a kick-ass technical single track – I love it all. Apart from riding bicycles, I love being all geeky and know everything there is to know about bicycles, technology, bike fit, and service.
I started BUMSONTHESADDLE to share this passion for cycling.
DISCIPLINE: Partial towards MOUNTAIN BIKING but love it all
CURRENT BIKE(S): Specialized Rockhopper, Specialized Tarmac, Pure Cycles Original
DREAM BIKE: S-Works Epic HT & S-Work Roubaix
OTHER PASSIONS: Technology, Photography, Baking, Travel, and Reading