Do check out the "Dear Motorist" video – a video with a goal to help raise awareness of cycling safety.
Please share this video – a few seconds could save a cyclist's life.
Pledge to Share the Road

In the last 10 years nearly 7,000 cyclists have been hit and killed in cyclist-motorist accidents. Our goal is to reduce that number by creating an alliance between Cyclists and Motorists to be more aware of each other and to share the road. Join us and together we can make a difference. I pledge to be more aware of my surroundings on the road. Beginning right now, I will do my part to help put an end to cyclist fatalities by committing to drive and cycle as responsibly as I can.
For more information visit www.dearmotorist.com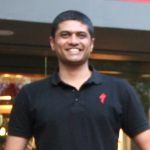 WHAT I LOVE ABOUT CYCLING
I love riding my bike. Whether it's a simple commute, a high-intensity road race, a jaw-grinding brevet, fixie rides thru packed Indian city or a kick-ass technical single track – I love it all. Apart from riding bicycles, I love being all geeky and know everything there is to know about bicycles, technology, bike fit, and service.
I started BUMSONTHESADDLE to share this passion for cycling.
DISCIPLINE: Partial towards MOUNTAIN BIKING but love it all
CURRENT BIKE(S): Specialized Rockhopper, Specialized Tarmac, Pure Cycles Original
DREAM BIKE: S-Works Epic HT & S-Work Roubaix
OTHER PASSIONS: Technology, Photography, Baking, Travel, and Reading