#S.A.L.T => #screwdriver #allenkeys #lube #tirepressure
We would like to invite everyone to "march" in to our new Specialized Concept Store on Saturday, 12th October and get your bike S.A.L.T. serviced for FREE!
It'a a great way for us to launch our kickass mech area, for you to experience what we are capable of and best of all to get a free checkup done on your beautiful bike before your Sunday ride!
Date: Saturday, 12 Oct (11AM – 6PM)
Where: The Specialized Concept Store a.k.a BumsOnTheSaddle Infantry Road
Directions: Map
Belated Happy Gandhi Jayanthi from BumsOnTheSaddle!
Get the inspiration? ;)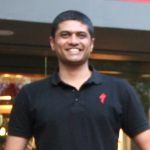 WHAT I LOVE ABOUT CYCLING
I love riding my bike. Whether it's a simple commute, a high-intensity road race, a jaw-grinding brevet, fixie rides thru packed Indian city or a kick-ass technical single track – I love it all. Apart from riding bicycles, I love being all geeky and know everything there is to know about bicycles, technology, bike fit, and service.
I started BUMSONTHESADDLE to share this passion for cycling.
DISCIPLINE: Partial towards MOUNTAIN BIKING but love it all
CURRENT BIKE(S): Specialized Rockhopper, Specialized Tarmac, Pure Cycles Original
DREAM BIKE: S-Works Epic HT & S-Work Roubaix
OTHER PASSIONS: Technology, Photography, Baking, Travel, and Reading