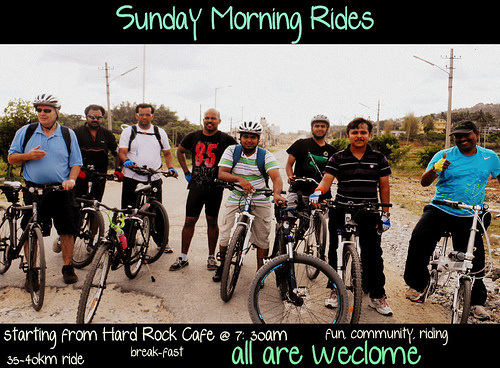 We are riding this Sunday from Hard Rock Cafe. We plan to do 40 Kms or more.
The first 20 Kms is going to be a chilled ride wherein you get to know the fellow rider, tell him about your fun stories on the bike. We heard Health Zingo is good breakfast place around Bellandur. Most of us are foodies in the crew, so we try different breakfast place every time. Its Health Zingo this Sunday. You can expect Veggie poha, yummy idlis and healthy parathas. Post breakfast, we are going to ride a bit harder and push your limits.
Start Point – Hard Rock Cafe, MG Road
Breakfast Point – Health Zingo, Bellandur.
End Point – Bumsonthesaddle, Jayanagar
Start Time – 07:40 am
End Time – 10:30 am (approx).
We would like you to :
– Wear a helmet
– Carry a water bottle
– Cash for your breakfast
– A nice lock to lock your awesome bike