Hari Adivarekar spent the last few weeks mingling and shooting the multi faceted cycling community of Bangalore!
The result – a beautiful photo essay (link)
Although the frames don't show it or talk about it – we are super proud to be a part of almost every frame one way or the other! We have either seeded the moment or been an active part of supporting the moment.
It's moments like these that suddenly make us realize how powerful our journey has been!
Thanks for the brilliant writeup and snaps Hari.
Do take time and go thru his awesome images of our precious cycling in Bangalore.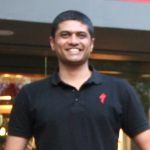 WHAT I LOVE ABOUT CYCLING
I love riding my bike. Whether it's a simple commute, a high-intensity road race, a jaw-grinding brevet, fixie rides thru packed Indian city or a kick-ass technical single track – I love it all. Apart from riding bicycles, I love being all geeky and know everything there is to know about bicycles, technology, bike fit, and service.
I started BUMSONTHESADDLE to share this passion for cycling.
DISCIPLINE: Partial towards MOUNTAIN BIKING but love it all
CURRENT BIKE(S): Specialized Rockhopper, Specialized Tarmac, Pure Cycles Original
DREAM BIKE: S-Works Epic HT & S-Work Roubaix
OTHER PASSIONS: Technology, Photography, Baking, Travel, and Reading