Date: 11th May, 2013
Distance: 80 km (including climbs)
Route: Somwarpet to Virajpet (via Madikeri and Murnad)
Location: Coorg, Karnataka
Prizes
1st prize: Rs 50,000
2nd prize: Rs 30,000
3rd prize: Rs 20,000
Malay Raja (King of the Ghat): Rs 11,000
4th prize: Rs 10,000
5th prize: Rs 7,000
6th prize: Rs 5,000
7th, 8th, 9th, 10th position: Rs 2000 each
Riders are expected to report on 10th May. Briefing will be done on the evening of 10 May.

Accommodation will be provided for the entire day and night of 10th May.

Lunch and dinner on 10th May and breakfast and lunch on 11th May too will be provided.

Those who wish to stay on after the race, can do so, on their own expense.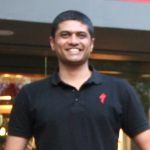 WHAT I LOVE ABOUT CYCLING
I love riding my bike. Whether it's a simple commute, a high-intensity road race, a jaw-grinding brevet, fixie rides thru packed Indian city or a kick-ass technical single track – I love it all. Apart from riding bicycles, I love being all geeky and know everything there is to know about bicycles, technology, bike fit, and service.
I started BUMSONTHESADDLE to share this passion for cycling.
DISCIPLINE: Partial towards MOUNTAIN BIKING but love it all
CURRENT BIKE(S): Specialized Rockhopper, Specialized Tarmac, Pure Cycles Original
DREAM BIKE: S-Works Epic HT & S-Work Roubaix
OTHER PASSIONS: Technology, Photography, Baking, Travel, and Reading