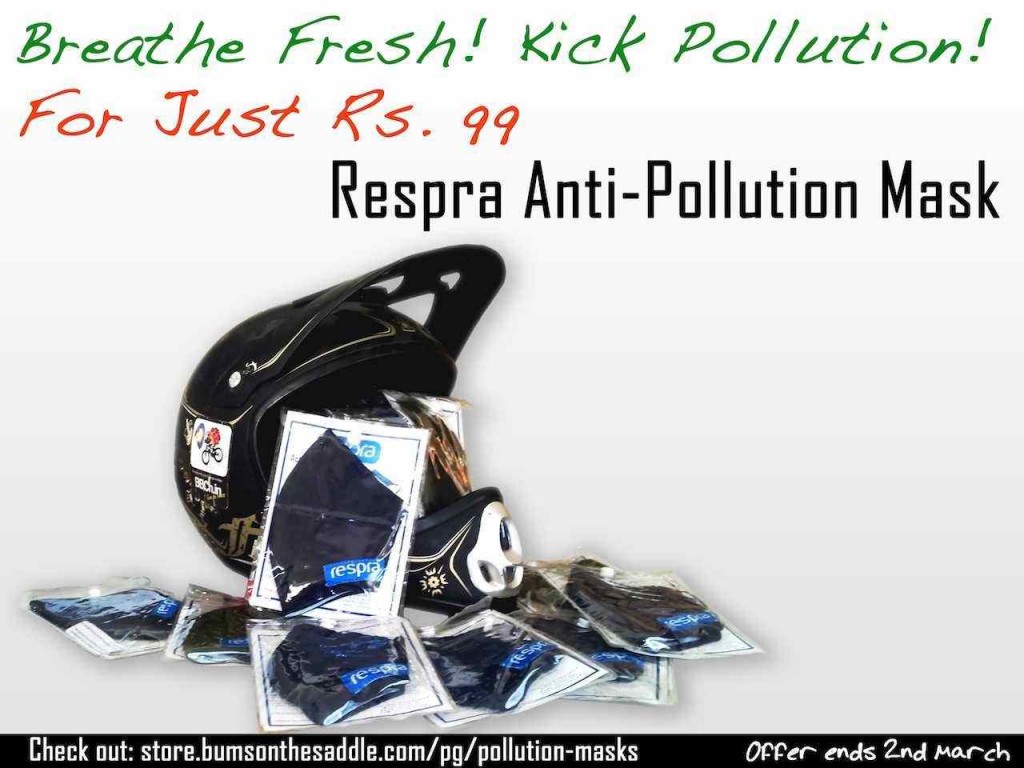 Have you always wondered how to tackle pollution on your ride?
Good anti-pollution masks is a simple answer. And you can get them delivered to your door step anywhere in India from our Online Bike Store.
Check out this good writeup on "Why to wear a mask" by the awesome folks at Respro UK.
The Respra anti-pollution mask is now available for just Rs. 99 on our online store. The MRP of the mask is actually Rs. 150 but we have this kickass offer to ensure our bikers are breathing right while riding in polluted environments.
The offer ends on 2 Mar 2013 – so hurry!
Why is the Respra anti pollution mask a good product for urban cycling, city walking and motorcycling?
Contains activated Activated Carbon Cloth offering protection against cancer causing air pollutants including napthalene, acenapthene, fluorine and benzo (a) pyrene.

The layers of non woven dust filter can filter 99% of particulate matter (<PMO.3).

Easy to use ear straps and smart nose clips ensures close and comfort fit to your face.

Inner and outer layers are made of pure cotton to ensure maximum breath ability.
Do check out the pollution masks from other brands too.
Feel free to reach out to us if you have any queries regarding riding in polluted environments and how best to tackle it. Our team will be more than happy to help you.
Remember, this offer is valid till 2 March 2013 only! So hurry.