Oh yeah!
Its Wednesday and its time for the weekly bicycle night ride in Bangalore.
Start – 10PM from HardRock Cafe, Bangalore
Ride time will be about an hour. The pace will be medium and depending on the folks who land up at Hard Rock Cafe. If its just a couple of speed demons we will ride hard but if its a lot of beginners we intend to enjoy the moon light!
Cya there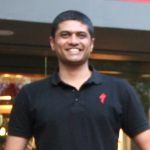 WHAT I LOVE ABOUT CYCLING
I love riding my bike. Whether it's a simple commute, a high-intensity road race, a jaw-grinding brevet, fixie rides thru packed Indian city or a kick-ass technical single track – I love it all. Apart from riding bicycles, I love being all geeky and know everything there is to know about bicycles, technology, bike fit, and service.
I started BUMSONTHESADDLE to share this passion for cycling.
DISCIPLINE: Partial towards MOUNTAIN BIKING but love it all
CURRENT BIKE(S): Specialized Rockhopper, Specialized Tarmac, Pure Cycles Original
DREAM BIKE: S-Works Epic HT & S-Work Roubaix
OTHER PASSIONS: Technology, Photography, Baking, Travel, and Reading