NiteRider technical lighting – DISCOVER THE NIGHT!
NiteRider just launched its 2013 models in India and we are super happy to get you guys a kickass offer – 15% off on their super awesome NiteRider Mako 150 front light + tail light combo kit.
Every bike deserves good lighting to ensure safety – biker and bike! Maybe the occasional night ride too ;)
Its a great deal at Rs 2295. Free Shipping and COD options too.
2013!
Combo – great value at lower price
150 lumens headlight (upgrade from last year)
powerful tail light
Offer lasts till end of January – so hurry.

Useful links
The frontlight resembles the scary looking Shortfin Mako Shark (hence the MAKO 150) – the red glow from the fins on the headlight look super cool!

cool mako depiction from blueraytshirts.co.uk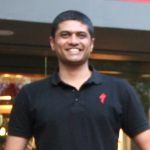 WHAT I LOVE ABOUT CYCLING
I love riding my bike. Whether it's a simple commute, a high-intensity road race, a jaw-grinding brevet, fixie rides thru packed Indian city or a kick-ass technical single track – I love it all. Apart from riding bicycles, I love being all geeky and know everything there is to know about bicycles, technology, bike fit, and service.
I started BUMSONTHESADDLE to share this passion for cycling.
DISCIPLINE: Partial towards MOUNTAIN BIKING but love it all
CURRENT BIKE(S): Specialized Rockhopper, Specialized Tarmac, Pure Cycles Original
DREAM BIKE: S-Works Epic HT & S-Work Roubaix
OTHER PASSIONS: Technology, Photography, Baking, Travel, and Reading