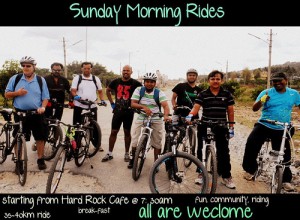 We start from Hard rock café at07:45 am (The troop starts on time. Don't be late. I missed a ride once by 3 mins) We head towards Shivajinagar and reach Benson Town. We take a right turn at Nandidurg road and reach Banaswadi.
We have heard a bit about Savi Ruchi hotel and recently experienced Leela's kitchen in one of the rides. We will have breakfast in either of the two and ride back to Koramangala.
Post Breakfast, we intend to ride harder. We should be able to reach Koramanagala Forum by 10:15 – 10 :30 am and we will disperse from there.
We would like you to,
–          Wear a helmet
–         Carry a water bottle.
–          Little cash for the breakfast
–          Lock
–          Not to mention, your super awesome bike