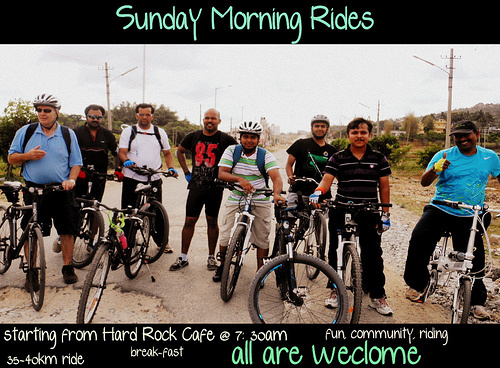 Race was fun last week. 1st lap was interesting, 2nd & 3rd lap was hard and in the 4th lap, I was getting a hang of things. 5th lap, I got lapped out.  This week, I'm all geared up for a awesome Sunday morning ride.
 Start Point: Hard Rock Cafe,7:30am
Stand Up : 07: 40 am – A tiny intro about riders and we get going from there. Riding as a group is always fun. When you get to know about a chap it's easier to mingle.
We start from Hard rock cafe and head towards Shivajinagar, Frazer town & reach Banaswadi. We take a U turn from there and ride towards Indiranagar and reach Koramangala.
One of the riders recommended "Food and You" last time for breakfast. We are going to maul the Gujarathi style restaurant at09: 30 amon Sunday. They better be ready to receive the hungry bikers.  I'm going to caution them tomorrow evening.
We will be dispersing from Food and you this time.