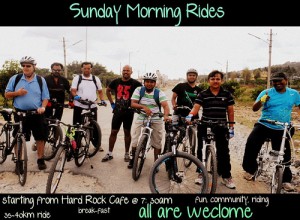 Are you bugged riding in traffic?…
Did you buy a bike recently and questioning yourself if you can ride long
distance or not?…
Do you know Steve Jobs?…
Irrespective of what your answer is, you can join the Sunday morning ride.
We are a small bunch of awesome cyclist who go on a relaxed ride and try
out different food on Sunday morning. We try and make sure our tummies
and taste buds experience new food every time. Post break fast, we
ride hard to burn calories and push the bar. The ride is filled with
mixture of things and superb of mixture people with one goal " Ride more and
have fun"
Ride Date : 18.11.2012
Start Point – Hard Rock Cafe, MG Road – 07:30 am.
Trip Type – Inside the city.
End Point – Jayanagar 4th Block – 10:00 to 10 :30 am.
We start from Hard rock cafe and head towards Halasuru, thomas Bakery and reach Mekhri circle. At CTR Malleshwaram, we will fill our tummies with crispy Masala dosas and spicy chutnies. We head back riding hard and reach Jayanagar around 10:00 am.
Alright! See you soon!