Start Point: Hard Rock Cafe, 7:30am
We start from Hard rock cafe and then ride thru Shivajinagar, R.T Nagar, Benson Town and Banaswadi. Around 09:00 AM we will take a U turn and ride towards Indiranagar and finish tiffin there and head towards Koramangala and finish the ride at BumsOnTheSaddle.
More info about out Sunday Morning Rides
Check out the awesome BumsOnTheSaddle Marketplace if you are looking for a rental bike or a second hand bike to join us.
ps: Prem has lost has phone. Please call BumsOnTheSaddle at +91-80-41233036 before 7:30pm today if you need assistance for tomorrows ride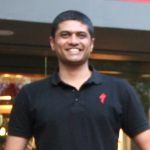 WHAT I LOVE ABOUT CYCLING
I love riding my bike. Whether it's a simple commute, a high-intensity road race, a jaw-grinding brevet, fixie rides thru packed Indian city or a kick-ass technical single track – I love it all. Apart from riding bicycles, I love being all geeky and know everything there is to know about bicycles, technology, bike fit, and service.
I started BUMSONTHESADDLE to share this passion for cycling.
DISCIPLINE: Partial towards MOUNTAIN BIKING but love it all
CURRENT BIKE(S): Specialized Rockhopper, Specialized Tarmac, Pure Cycles Original
DREAM BIKE: S-Works Epic HT & S-Work Roubaix
OTHER PASSIONS: Technology, Photography, Baking, Travel, and Reading