Start Point: Hard Rock Cafe, 7:30am
We start from Hard rock cafe and head towards Shivajinagar, R.T Nagar & reach Mathikere. At CTR Malleshwaram, we will fill our tummies with crispy Masala dosas and spicy chutnies.
Although, we've heard a lot about CTR but never been to. If someone knows a better place, do suggest us during the ride. We finish break fast and ride back to M G road and disperse from there
More info about out Sunday Morning Rides
Check out the awesome BumsOnTheSaddle Marketplace if you are looking for a rental bike or a second hand bike to join us.
ps: Prem has lost has phone. Please call BumsOnTheSaddle at +91-80-41233036 before 7:30pm today if you need assistance for tomorrows ride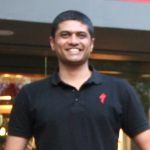 WHAT I LOVE ABOUT CYCLING
I love riding my bike. Whether it's a simple commute, a high-intensity road race, a jaw-grinding brevet, fixie rides thru packed Indian city or a kick-ass technical single track – I love it all. Apart from riding bicycles, I love being all geeky and know everything there is to know about bicycles, technology, bike fit, and service.
I started BUMSONTHESADDLE to share this passion for cycling.
DISCIPLINE: Partial towards MOUNTAIN BIKING but love it all
CURRENT BIKE(S): Specialized Rockhopper, Specialized Tarmac, Pure Cycles Original
DREAM BIKE: S-Works Epic HT & S-Work Roubaix
OTHER PASSIONS: Technology, Photography, Baking, Travel, and Reading