Naveen and Ignatius fooling around the new KHS Bikes at BumsOnTheSaddle
A batch of KHS bikes rolled into BumsOnTheSaddle yesterday. All ready for some bikers to ride em away.
The following models in their 2012 line-up are available currently.
The latest prices are as per the website
The 2013 models are expected end of the year.
We should be having detailed reviews of these bikes on our Bikes & Gear Reviews page in the coming weeks.
If you have any feedback on questions on these bikes please feel free to shoot us an email. We would be more than happy to help you out.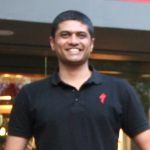 WHAT I LOVE ABOUT CYCLING
I love riding my bike. Whether it's a simple commute, a high-intensity road race, a jaw-grinding brevet, fixie rides thru packed Indian city or a kick-ass technical single track – I love it all. Apart from riding bicycles, I love being all geeky and know everything there is to know about bicycles, technology, bike fit, and service.
I started BUMSONTHESADDLE to share this passion for cycling.
DISCIPLINE: Partial towards MOUNTAIN BIKING but love it all
CURRENT BIKE(S): Specialized Rockhopper, Specialized Tarmac, Pure Cycles Original
DREAM BIKE: S-Works Epic HT & S-Work Roubaix
OTHER PASSIONS: Technology, Photography, Baking, Travel, and Reading