Planet Bike products are now available at BumsOnTheSaddle :)
Tail Lights
Disclaimer – prices as on 7 Oct 2012. Please check the website for the latest prices
The Blinky 3 and the Blinky 7 are their entry level products.
Super Bright LED's
1 Mile Visibility
Flashing and Steady mode
Weather proof, lightweight and durable
The Blinky has 200 hours of runtime whereas the Blinky 7 has 7 LEDs, 220 degrees of visibility and multiple mounting options.
The Superflash Stealth and Superflash Turbo are their high end options and are known to be some of the best taillights in the world!
The brilliant super power LED and the flash pattern these taillights are visible even in day light. Very important when you are really serious about wanting to protect your back while riding in urban conditions or riding in high traffic.
1 Mile visibility
Flash and Steady mode's
Daylight visibility
Mounting options
The Stealth comes with a 1/2 watt super bright LED whereas the Turbo comes with a 1 watt LED for daylight riding and for ensuring others see you in the night!
Manufacturers Website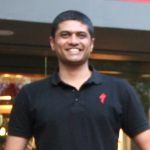 WHAT I LOVE ABOUT CYCLING
I love riding my bike. Whether it's a simple commute, a high-intensity road race, a jaw-grinding brevet, fixie rides thru packed Indian city or a kick-ass technical single track – I love it all. Apart from riding bicycles, I love being all geeky and know everything there is to know about bicycles, technology, bike fit, and service.
I started BUMSONTHESADDLE to share this passion for cycling.
DISCIPLINE: Partial towards MOUNTAIN BIKING but love it all
CURRENT BIKE(S): Specialized Rockhopper, Specialized Tarmac, Pure Cycles Original
DREAM BIKE: S-Works Epic HT & S-Work Roubaix
OTHER PASSIONS: Technology, Photography, Baking, Travel, and Reading