Ready for the weekly wednesday moonlit cycle rides?
Iggy will be taking all of us on a fast ride!
Start point – Hard Rock Cafe, MG Road (Hic!) at 10:00 PM sharp
End point – Corner House, off Residency road
The route
Hebbal Flyover
Outer Ring Road
Service Road to Railway Parallel Road
Baiyappanahalli Station
Old Madras Road
Ulsoor Lake
Corner House, Treat Stop
The faster ones can sprint ahead and lap the slowpokes as many times as you like! The slow ones, enjoy the moonlight.
Anyone and everyone are welcome to join.
Please read the map as its easy to lose your way and you can take short cuts and rejoin the group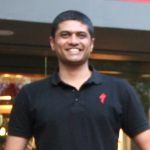 WHAT I LOVE ABOUT CYCLING
I love riding my bike. Whether it's a simple commute, a high-intensity road race, a jaw-grinding brevet, fixie rides thru packed Indian city or a kick-ass technical single track – I love it all. Apart from riding bicycles, I love being all geeky and know everything there is to know about bicycles, technology, bike fit, and service.
I started BUMSONTHESADDLE to share this passion for cycling.
DISCIPLINE: Partial towards MOUNTAIN BIKING but love it all
CURRENT BIKE(S): Specialized Rockhopper, Specialized Tarmac, Pure Cycles Original
DREAM BIKE: S-Works Epic HT & S-Work Roubaix
OTHER PASSIONS: Technology, Photography, Baking, Travel, and Reading