Ride Details
Date – Every Sunday

Start point – BumsOnTheSaddle at 7:45am

Route – routes will vary

Distance – about 25 Kms in 2hrs
These ride is a mellow 2 hour bike ride at a relaxed pace that is suitable for beginners to intermediate level riders.
A secret agenda on these rides would be to discover nice breakfast joints in the city :)
Nothing like a happy tummy as we pick up the pace back to the start point and experience the thrill of riding one of the most efficient machines on this planet.
General ride expectations
Bicycle in good working condition
We recommend you use a helmet and a tail light
The know-how and tools to change your own flats
Water and Nutrition
No headphones/radios please
Have loads of fun
Maintain traffic rules
If you intend to drive down to the start point, we have plenty of parking on the streets outside BumsOnTheSaddle.
If you have questions or need information contact Prem Kanth at rides@bumsonthesaddle.com or just call us at +91-80-41233036
Bike rentals – www.bumsonthesaddle.com/rentals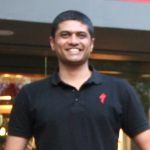 WHAT I LOVE ABOUT CYCLING
I love riding my bike. Whether it's a simple commute, a high-intensity road race, a jaw-grinding brevet, fixie rides thru packed Indian city or a kick-ass technical single track – I love it all. Apart from riding bicycles, I love being all geeky and know everything there is to know about bicycles, technology, bike fit, and service.
I started BUMSONTHESADDLE to share this passion for cycling.
DISCIPLINE: Partial towards MOUNTAIN BIKING but love it all
CURRENT BIKE(S): Specialized Rockhopper, Specialized Tarmac, Pure Cycles Original
DREAM BIKE: S-Works Epic HT & S-Work Roubaix
OTHER PASSIONS: Technology, Photography, Baking, Travel, and Reading