Fast nite ride thru the city.
Spin and warm up the first 15 – 20 mins and then take the city for a ride.
Route – nothing set. The biker leading the pack will ride to his/her fancy. If you dont like where you are being led you get to the front and lead the pack. Simple.
Helmet, front/tail lights and commonsense compulsory.
Any kind of bicycle will do. Roller blades are allowed too.

No Babysitting. You ride hard and keep up with the group.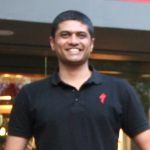 WHAT I LOVE ABOUT CYCLING
I love riding my bike. Whether it's a simple commute, a high-intensity road race, a jaw-grinding brevet, fixie rides thru packed Indian city or a kick-ass technical single track – I love it all. Apart from riding bicycles, I love being all geeky and know everything there is to know about bicycles, technology, bike fit, and service.
I started BUMSONTHESADDLE to share this passion for cycling.
DISCIPLINE: Partial towards MOUNTAIN BIKING but love it all
CURRENT BIKE(S): Specialized Rockhopper, Specialized Tarmac, Pure Cycles Original
DREAM BIKE: S-Works Epic HT & S-Work Roubaix
OTHER PASSIONS: Technology, Photography, Baking, Travel, and Reading