Pannier bags are useful to ensure a comfortable ride – to stash your laptop and clothes on a short commute or to carry valuable supplies on a long tour across forever. Its always nice to have a load off your back and enjoy the ride!
Although it was kinda hard to get our hands on nice panniers till date, we finally have some good products from Vincita
The Product
Panniers on the Official website (http://www.vincita.co.th/pannier.html)
Vincita Single pannier (model B060) – priced around Rs 2625

Vincita Double pannier (model B082) – priced around Rs 1900
Ping us at admin@bumsonthesaddle.com for more details if you need em. The team will be more than happy to sort you out with anything bicycling.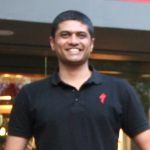 WHAT I LOVE ABOUT CYCLING
I love riding my bike. Whether it's a simple commute, a high-intensity road race, a jaw-grinding brevet, fixie rides thru packed Indian city or a kick-ass technical single track – I love it all. Apart from riding bicycles, I love being all geeky and know everything there is to know about bicycles, technology, bike fit, and service.
I started BUMSONTHESADDLE to share this passion for cycling.
DISCIPLINE: Partial towards MOUNTAIN BIKING but love it all
CURRENT BIKE(S): Specialized Rockhopper, Specialized Tarmac, Pure Cycles Original
DREAM BIKE: S-Works Epic HT & S-Work Roubaix
OTHER PASSIONS: Technology, Photography, Baking, Travel, and Reading