They Bangalore Brevets are all ready to kickoff again. Time to dust off your touring bike and enjoy some kickass long rides!
Brevet Details
The first brevet of the 2011-2012 season, the Huliyurdurga 200km BRM takes us through what was erstwhile big cat territory, the word "huli" refers to tigers! The route is a quiet one visiting Magadi, the erstwhile capital, two state forests, Huliyurdurga, Maddur, Ramanagara and Manchanbele before returning to Bangalore. Except for the stretch between Maddur and Ramanagara on Mysore road, the route avoids busy roads, and the ride is along quiet and green roads.
Note that this is a rolling route with steep ascents and descents.
This is an ACP sanctioned brevet ride, and must be completely self-supported. The ride has to be finished within 13.5 hrs. This is not a competitive ride.
Ride Details
Date: Nov 26, 2011

Time: 6AM start. Registration formalities begin 5.30AM

Start: Indian Institute of Science Gymkhana Gate, Yeshwantpur

End: Indian Institute of Science, A-Mess Gate/Kendriya Vidyalaya Gate, Mathikere Road

Distance: 200 km

Time limit: 13.5 hours
More Details – www.BangaloreBrevets.in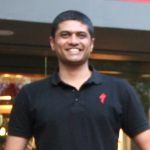 WHAT I LOVE ABOUT CYCLING
I love riding my bike. Whether it's a simple commute, a high-intensity road race, a jaw-grinding brevet, fixie rides thru packed Indian city or a kick-ass technical single track – I love it all. Apart from riding bicycles, I love being all geeky and know everything there is to know about bicycles, technology, bike fit, and service.
I started BUMSONTHESADDLE to share this passion for cycling.
DISCIPLINE: Partial towards MOUNTAIN BIKING but love it all
CURRENT BIKE(S): Specialized Rockhopper, Specialized Tarmac, Pure Cycles Original
DREAM BIKE: S-Works Epic HT & S-Work Roubaix
OTHER PASSIONS: Technology, Photography, Baking, Travel, and Reading