Its Tech tuesday at Pinkbike and they have a very good writeup on finding and fixing creaks in your bicycle
Definitely a must read.
How we quieten noisy beasts


Tools required
Your noisy bike
Allen keys
Grease
Degreaser
A clean cloth
Torque wrench
Some patience and an open mind
Procedure
Understand if the noise is rhythmic or sporadic. Rhythm indicates that the noise would be coming from either the wheel or the crank/pedal interface. Sporadic would mean its a torquing/load issue.
Sit on the bike and pedal normally – if you hear the noise it's mostly something making contact with another part on the bike.
Stand on the bike and pedal hard – if you hear the noise it's mostly some component thats slightly loose or needs cleaning and re-greasing and re-torquing. The Handlebar/Stem bolt interface is a common culprit.
Sit and pedal hard – if you hear the noise now its mostly something to do with the seat post/saddle.
Common culprits – Seat posts, Stems, Loose quick releases, Bottom Brackets.
Other good reads on how to take care of a noisy bicycle
How helpful was this article?
Click a star to rate.
Average rating / 5. Vote count:
Shucks. We're sorry this post was not that useful
How can we improve this post for you?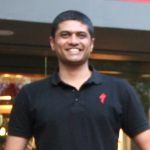 WHAT I LOVE ABOUT CYCLING
I love riding my bike. Whether it's a simple commute, a high-intensity road race, a jaw-grinding brevet, fixie rides thru packed Indian city or a kick-ass technical single track – I love it all. Apart from riding bicycles, I love being all geeky and know everything there is to know about bicycles, technology, bike fit, and service.
I started BUMSONTHESADDLE to share this passion for cycling.
DISCIPLINE: Partial towards MOUNTAIN BIKING but love it all
CURRENT BIKE(S): Specialized Rockhopper, Specialized Tarmac, Pure Cycles Original
DREAM BIKE: S-Works Epic HT & S-Work Roubaix
OTHER PASSIONS: Technology, Photography, Baking, Travel, and Reading