Bikers from Bangalore who took part in the Paris-Brest-Paris 2011
What: Movie nite – PBP: The incredible journey

Where: BumsOnTheSaddle

What time: meetup at 6:30pm

Signup: on the facebook event page, if you like
The usual BOTS Movie nite fundas – get your friends, everyone is welcome, more the merrier and BYOB of course ;)
It all started with a call from one lone biker, Venkatachalam – "How about conducting some long distance rides in Bangalore ? Maybe give the PBP a shot ?"
And it culminated with 5 bikers from Bangalore having an ride of their life at the phenomenal 1200Km Paris-Brest-Paris ride
There is a lot that happened in between and a bunch of stars which made it all happen – lots n lots of planning and riding, a good dash of exciting stories and some really really hard work. Game changers!
A big shout out to everyone who put in work to make this happen. There are just too many to talk about here.
The 5 folks who rode the PBP this year
Alex
Amol
Samim
Shreyas
Venkat
We would be meeting up this Saturday at 6:30pm – all the folks who helped conduct the Bangalore Brevets, the 5 riders who rode the 1200Kms and you of course.
We will also be playing the Paris-Brest-Paris: The Incredible Journey to get an idea of how the 2007 ride went and watch snaps taken by the folks at the PBP
Wanna know more ?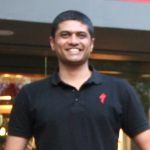 WHAT I LOVE ABOUT CYCLING
I love riding my bike. Whether it's a simple commute, a high-intensity road race, a jaw-grinding brevet, fixie rides thru packed Indian city or a kick-ass technical single track – I love it all. Apart from riding bicycles, I love being all geeky and know everything there is to know about bicycles, technology, bike fit, and service.
I started BUMSONTHESADDLE to share this passion for cycling.
DISCIPLINE: Partial towards MOUNTAIN BIKING but love it all
CURRENT BIKE(S): Specialized Rockhopper, Specialized Tarmac, Pure Cycles Original
DREAM BIKE: S-Works Epic HT & S-Work Roubaix
OTHER PASSIONS: Technology, Photography, Baking, Travel, and Reading