The Tour de France is on
Incase you are in India and would like to know what time each stage starts, Sri Harsha Maiya has a very useful excel sheet with start timings and the details of the stage
The actual document with the timings – www.tinyurl.com/tdf-ist
Just google for it and you should find a lot of sites where you can view the races live.
We intend to play all the races at BumsOnTheSaddle and everyone is more than welcome to join us at every race !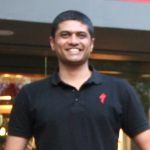 WHAT I LOVE ABOUT CYCLING
I love riding my bike. Whether it's a simple commute, a high-intensity road race, a jaw-grinding brevet, fixie rides thru packed Indian city or a kick-ass technical single track – I love it all. Apart from riding bicycles, I love being all geeky and know everything there is to know about bicycles, technology, bike fit, and service.
I started BUMSONTHESADDLE to share this passion for cycling.
DISCIPLINE: Partial towards MOUNTAIN BIKING but love it all
CURRENT BIKE(S): Specialized Rockhopper, Specialized Tarmac, Pure Cycles Original
DREAM BIKE: S-Works Epic HT & S-Work Roubaix
OTHER PASSIONS: Technology, Photography, Baking, Travel, and Reading