Are you a biker in Bangalore ? June is definitely a good month for you, with a ton of events
These two events were held on the 5th of June. The race was good, with quite a big turn out. We got a chance to check out the Indian team in action. Pretty awesome to see local bikers riding hard in the pelotons.
Thats one event every weekend for the rest of the month.
Apart from these there are a lot of rides happening (check out on the ride calendar) and loads of biking conversations on the Bangalore Community groups
Join in on the fun !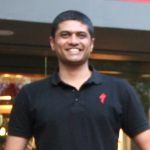 WHAT I LOVE ABOUT CYCLING
I love riding my bike. Whether it's a simple commute, a high-intensity road race, a jaw-grinding brevet, fixie rides thru packed Indian city or a kick-ass technical single track – I love it all. Apart from riding bicycles, I love being all geeky and know everything there is to know about bicycles, technology, bike fit, and service.
I started BUMSONTHESADDLE to share this passion for cycling.
DISCIPLINE: Partial towards MOUNTAIN BIKING but love it all
CURRENT BIKE(S): Specialized Rockhopper, Specialized Tarmac, Pure Cycles Original
DREAM BIKE: S-Works Epic HT & S-Work Roubaix
OTHER PASSIONS: Technology, Photography, Baking, Travel, and Reading