even while eating a banana on one of our Bangalore Bicycle Championship races :)
We always emphasize the importance of wearing a good helmet while cycling – be it commute, a race or even a casual ride !
You never know when you might have a fall. Quite a few bikers have come back and told us stories about their helmets preventing an extra hole in their head.
While there are numerous studies for and against wearing helmets, we would prefer to have something between our heads if and when there is contact with tarmac or trail.
The importance of a helmet on a lighter vein :)

Like we said, wearing a helmet is THAT important.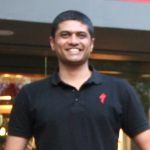 WHAT I LOVE ABOUT CYCLING
I love riding my bike. Whether it's a simple commute, a high-intensity road race, a jaw-grinding brevet, fixie rides thru packed Indian city or a kick-ass technical single track – I love it all. Apart from riding bicycles, I love being all geeky and know everything there is to know about bicycles, technology, bike fit, and service.
I started BUMSONTHESADDLE to share this passion for cycling.
DISCIPLINE: Partial towards MOUNTAIN BIKING but love it all
CURRENT BIKE(S): Specialized Rockhopper, Specialized Tarmac, Pure Cycles Original
DREAM BIKE: S-Works Epic HT & S-Work Roubaix
OTHER PASSIONS: Technology, Photography, Baking, Travel, and Reading