The Bangalore Bicycle Championships commence this month – for the next few months. And I hope there are a few bikers out here in Bangalore who are looking to push their biking skills, train and have a good time, competing and kicking some butt at the same times. That is the point of a competition right – get the adrenaline flowing and wanting to be the best !
Incidentally Trek launched their new site TWR – Trek World Racing. Knowing Trek and the way the handle their biking space i'm sure this is going to be grand !
Excerpt from their blog
Welcome to Trek World Racing.
6 riders, 2 disciplines, 1 goal
Trek World Racing is proud to present to the world its new website. Based heavily on video installments by the Parkin Brothers of Orpheus Productions, the new website is a testament to the team's progressive philosophy of pushing the limits of what a race team can be.
Trek World Racing isn't a cross country team. It's not a downhill team. Instead, it's a mountain bike race team, alowing the world's best athletes to push their limits through a season of World Cup races. And with the launch of this website, you'll be able to follow all the racing and behind-the-scenes action.
Do check out the sexy bikes in the Bikes Section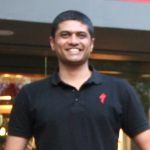 WHAT I LOVE ABOUT CYCLING
I love riding my bike. Whether it's a simple commute, a high-intensity road race, a jaw-grinding brevet, fixie rides thru packed Indian city or a kick-ass technical single track – I love it all. Apart from riding bicycles, I love being all geeky and know everything there is to know about bicycles, technology, bike fit, and service.
I started BUMSONTHESADDLE to share this passion for cycling.
DISCIPLINE: Partial towards MOUNTAIN BIKING but love it all
CURRENT BIKE(S): Specialized Rockhopper, Specialized Tarmac, Pure Cycles Original
DREAM BIKE: S-Works Epic HT & S-Work Roubaix
OTHER PASSIONS: Technology, Photography, Baking, Travel, and Reading