oh yeah, we forgot to mention that the flavor of the next few posts is going to be Commute – especially since this week is celebrated as the Bike2Work week.
Trivia – As per the League of American Bicyclists May is Bike Month, May 11-15th is Bike-to-work week and May 15th was bike-to-work day !

Not that it matters. We found it pretty amusing that there is a bike month, bike week and a bike day too ! Whopeeeeee ….
Anyways.
After the previous post of a exciting commute experience, this post is about the various initiatives happening in Bangalore city on this hallowed Bike2Work week (almost) to promote cycling and to take a stab at educating 'the others' and get them to think about higher means of transport. Or at least get them to be considerate towards those who do.
Fellow bikers at three big IT firms in Bangalore have taken the initiative to help organize bike awareness campaigns at their respective workplaces.
We will be sharing artifacts that come out of these presentations/awareness drives so that other companies can easily host their own. All plans, ideas, photos, artifacts, experiences will be shared on our biking notebook – The Corporate Section specifically
Interested in having a bicycle awareness drive at your company ? Ping us and lets see how we can help you conduct one.
Spread the word. Spread the joy !
Some interesting links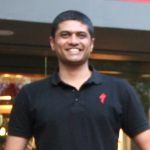 WHAT I LOVE ABOUT CYCLING
I love riding my bike. Whether it's a simple commute, a high-intensity road race, a jaw-grinding brevet, fixie rides thru packed Indian city or a kick-ass technical single track – I love it all. Apart from riding bicycles, I love being all geeky and know everything there is to know about bicycles, technology, bike fit, and service.
I started BUMSONTHESADDLE to share this passion for cycling.
DISCIPLINE: Partial towards MOUNTAIN BIKING but love it all
CURRENT BIKE(S): Specialized Rockhopper, Specialized Tarmac, Pure Cycles Original
DREAM BIKE: S-Works Epic HT & S-Work Roubaix
OTHER PASSIONS: Technology, Photography, Baking, Travel, and Reading