… a commute back home …
a recent late evening commute back home left me so stoked that I had to post up :) The commute started right out of our cubicles, down the stairs onto the streets, and back home.
commuting on a bicycle is one of the best things I do every day. Its amazing how my good karma piles up
I'm actively saving the environment
I'm saving cash
I'm getting fitter
I'm saving oodles of time
I'm having loads of fun
I get to work faster
I get a kick ass workout in the morning
I inspire folks – ever had kids admire you when you drive by in your swanky car ?
and Im sure the list goes on
The kind of bike you use for your commute is no big deal.
Have a mountain bike ? find urban trails. Its amazing what your commute can throw at you if you really learn to look.

Make it an active commute – understand traffic movement. Its time to use the faults on the road to improve your skills – bike handling, speed, cornering, jumping …
Have a road bike ? Time to train for speed. Time yourself daily. Maintain a timing chart and see if you can improve your timings. Learn how to improve your climbing skills. Small changes, like how you pedal for instance – can make you faster and more efficient.
Safety and sensibility at all times of course. This is all about having sensible fun.
There is no 'perfect' bike for commute – its all about having a bike that you love and the daily ride.
So. Do you feel alive at the end of your commute ? Tell us more about your commute.
Harsha and Nelly – you guys are the best commute pals :)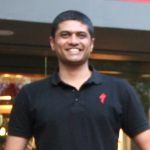 WHAT I LOVE ABOUT CYCLING
I love riding my bike. Whether it's a simple commute, a high-intensity road race, a jaw-grinding brevet, fixie rides thru packed Indian city or a kick-ass technical single track – I love it all. Apart from riding bicycles, I love being all geeky and know everything there is to know about bicycles, technology, bike fit, and service.
I started BUMSONTHESADDLE to share this passion for cycling.
DISCIPLINE: Partial towards MOUNTAIN BIKING but love it all
CURRENT BIKE(S): Specialized Rockhopper, Specialized Tarmac, Pure Cycles Original
DREAM BIKE: S-Works Epic HT & S-Work Roubaix
OTHER PASSIONS: Technology, Photography, Baking, Travel, and Reading