Bike Radar always has some kickass reading.
Here are some select articles that recently appeared on Bike Radar.
Fueling your engine
Eggs – the perfect cycling food

fueling yourself is one of the most important aspects to learn and understand when you cycle longer distances else you are likely to face the dreaded bonk.
This article suggests having a couple of eggs along with some carbs before a ride.
Fueling before/after rides

eating tips before and after rides to prevent a fuel crisis. Like the article mentions we should eat not to tickle the taste buds, but to fuel the body.
Supermarket Energy Bars ?

figure out whats good and whats bad and how to read labels to get the good stuff for on-ride-snacks.
Fueling by Numbers

a more number oriented take on how to fuel the body, especially before big rides or races.
MTB

Skills

Vision Control

trail riding is all about using your senses and biking skills to make sure you have a blast. Vision control, or the ability to judge the trail is one of the most important and this is one of the best articles I have read on this.

How to train your eyes

… and a article on how to train your eyes to achieve nirvana as explained in the Vision Control artcile

MTB Technique

Its all about the technique while trail riding. This article talks about some of these to step up your riding skills while out there so that you dont wash out.

have more links to share with the biking community ? Send it to us and we will update the artcile.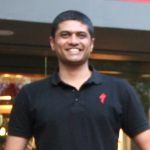 WHAT I LOVE ABOUT CYCLING
I love riding my bike. Whether it's a simple commute, a high-intensity road race, a jaw-grinding brevet, fixie rides thru packed Indian city or a kick-ass technical single track – I love it all. Apart from riding bicycles, I love being all geeky and know everything there is to know about bicycles, technology, bike fit, and service.
I started BUMSONTHESADDLE to share this passion for cycling.
DISCIPLINE: Partial towards MOUNTAIN BIKING but love it all
CURRENT BIKE(S): Specialized Rockhopper, Specialized Tarmac, Pure Cycles Original
DREAM BIKE: S-Works Epic HT & S-Work Roubaix
OTHER PASSIONS: Technology, Photography, Baking, Travel, and Reading