our Bike store, a little under the Weather
Some pics of what the rain god brought us
Its raining cats and dogs and Bangalore has cooled its heels. And its lovely to cycle in the evenings.
Unfortunately the last spell of wind and rain brought havoc to the bike store and caused considerable damage.
The strong gusts of wind uprooted our roof and exposed the entire space to an onslaught of rain. Luckily no bikes were damaged. No one was hurt either.
Damage control swung into action and we cleaned up the place and a spanking new roof is on its way. Yay !
This does put the bike store out of action for at least 2 weeks
Till then
if you need to speak to us – email us. We will get back asap.
want a new bicycle – ummm, we would love to get your bum (or both of them) on a saddle. But its going to be painful without the complete setup. Would definitely be easier in two weeks time.
You need help with your bike, like yesterday – email us. We will ensure you are riding asap.
One of the best things to come out of this is the number of bikers who have called/emailed/text'ed/dropped in/pinged/IM/tweeted … asking if they could help out.
Thank you all. Its been a big boost to see the kind of support we have. Really really nice.
As a startup, this (bumsonthesaddle) has been continuously teaching us life lessons :)
The lesson here, go for quality. Even when cash strapped – be careful of being penny wise and pound foolish. Get good people to do stuff that you dont do directly – in our case looks like some quack built the store for us.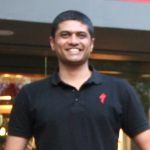 WHAT I LOVE ABOUT CYCLING
I love riding my bike. Whether it's a simple commute, a high-intensity road race, a jaw-grinding brevet, fixie rides thru packed Indian city or a kick-ass technical single track – I love it all. Apart from riding bicycles, I love being all geeky and know everything there is to know about bicycles, technology, bike fit, and service.
I started BUMSONTHESADDLE to share this passion for cycling.
DISCIPLINE: Partial towards MOUNTAIN BIKING but love it all
CURRENT BIKE(S): Specialized Rockhopper, Specialized Tarmac, Pure Cycles Original
DREAM BIKE: S-Works Epic HT & S-Work Roubaix
OTHER PASSIONS: Technology, Photography, Baking, Travel, and Reading