A Zen Teacher saw five of his students return from the market, riding their bicycles. When they had dismounted, the teacher asked the students,
"Why are you riding your bicycles?"
The first student replied, "The bicycle is carrying this sack of potatoes. I am glad that I do not have to carry them on my back!"
The teacher praised the student, saying, "You are a smart boy. When you grow old, you will not walk hunched over, as I do."
The second student replied, "I love to watch the trees and fields pass by as I roll down the path."
The teacher commended the student, "Your eyes are open and you see the world."
The third student replied, "When I ride my bicycle, I am content to chant, nam myoho renge kyo."
The teacher gave praise to the third student, "Your mind will roll with the ease of a newly trued wheel."
The fourth student answered, "Riding my bicycle, I live in harmony with all beings."
The teacher was pleased and said, "You are riding on the golden path of non-harming."
The fifth student replied, "I ride my bicycle to ride my bicycle."
The teacher went and sat at the feet of the fifth student, and said, "I am your disciple."
thanks to Manoj for sharing this with the biking community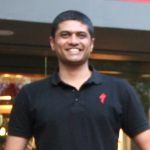 WHAT I LOVE ABOUT CYCLING
I love riding my bike. Whether it's a simple commute, a high-intensity road race, a jaw-grinding brevet, fixie rides thru packed Indian city or a kick-ass technical single track – I love it all. Apart from riding bicycles, I love being all geeky and know everything there is to know about bicycles, technology, bike fit, and service.
I started BUMSONTHESADDLE to share this passion for cycling.
DISCIPLINE: Partial towards MOUNTAIN BIKING but love it all
CURRENT BIKE(S): Specialized Rockhopper, Specialized Tarmac, Pure Cycles Original
DREAM BIKE: S-Works Epic HT & S-Work Roubaix
OTHER PASSIONS: Technology, Photography, Baking, Travel, and Reading