The aim of the workshop is to explore, design and prototype an environment that is beautiful, pleasant, eco-friendly and makes people wanting to cycle. We will be building the prototypes specifically for Auroville conditions and will explore how they will be applicable to urban areas at a later stage.
Please do read the brochure for more details regarding
an outline on the course
benefits
schedule
mentors
costs
and how to apply
a download link to the complete brochure on the design workshop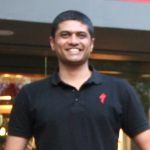 WHAT I LOVE ABOUT CYCLING
I love riding my bike. Whether it's a simple commute, a high-intensity road race, a jaw-grinding brevet, fixie rides thru packed Indian city or a kick-ass technical single track – I love it all. Apart from riding bicycles, I love being all geeky and know everything there is to know about bicycles, technology, bike fit, and service.
I started BUMSONTHESADDLE to share this passion for cycling.
DISCIPLINE: Partial towards MOUNTAIN BIKING but love it all
CURRENT BIKE(S): Specialized Rockhopper, Specialized Tarmac, Pure Cycles Original
DREAM BIKE: S-Works Epic HT & S-Work Roubaix
OTHER PASSIONS: Technology, Photography, Baking, Travel, and Reading