announcing the new BangaloreBikers sms channel
Want to be kept updated about events, rides, movie nights, workshops, et al ?

Want to keep in touch with the other bikers in the city ?
Join up !
---
[updated with inputs from other bikers on this thread on BangaloreBikers]
how does this help
SMS is all about immediate update. You might miss a mail You rarely miss an SMS update.
why should one subscribe
It is one of the best ways to get important updates about biking activities in Bangalore
when does one get a sms
As soon as somebody posts an SMS. But you can set the time limits from the settings page.
where is the sms sent from
Google Sends the SMS. Hence only your nick name will appear in the SMS and not ur number. Also, neither the admin nor the users can access the registered mobile numbers. That way your privacy is taken care of.
Via Web – http://labs.google.co.in/smschannels/channel/bngbikers

Via SMS – Start the message with the channel name and then type the message. Send it to 9870807070.

E.g. bngbikers This is a test message. It needs to be sent to 9870807070
how much does it cost
If you send sms using web interface, it doesn't cost a thing. If you send SMS using your mobile – standard SMS charges of your plan apply. Also, you will be charged for only one SMS though Google sends it to the entire group.
Note: There is no cost for receiving the SMS.
who sends the sms
Anybody in the group can send the SMS.
how to register
Via Web: http://labs.google.co.in/smschannels/subscribe/bngbikers

Via Mobile – Send this message – ON bngbikers – to 9870807070
For any other queries, visit – http://labs.google.co.in/smschannels/help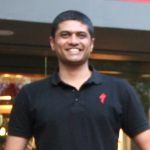 WHAT I LOVE ABOUT CYCLING
I love riding my bike. Whether it's a simple commute, a high-intensity road race, a jaw-grinding brevet, fixie rides thru packed Indian city or a kick-ass technical single track – I love it all. Apart from riding bicycles, I love being all geeky and know everything there is to know about bicycles, technology, bike fit, and service.
I started BUMSONTHESADDLE to share this passion for cycling.
DISCIPLINE: Partial towards MOUNTAIN BIKING but love it all
CURRENT BIKE(S): Specialized Rockhopper, Specialized Tarmac, Pure Cycles Original
DREAM BIKE: S-Works Epic HT & S-Work Roubaix
OTHER PASSIONS: Technology, Photography, Baking, Travel, and Reading